Weekly Log Spreads for your Bullet Journal. Feeling like you are out of ideas and finding some inspiration ? This is the perfect place for you to find 25 most amazing and easy weekly log spreads for your Bullet Journal .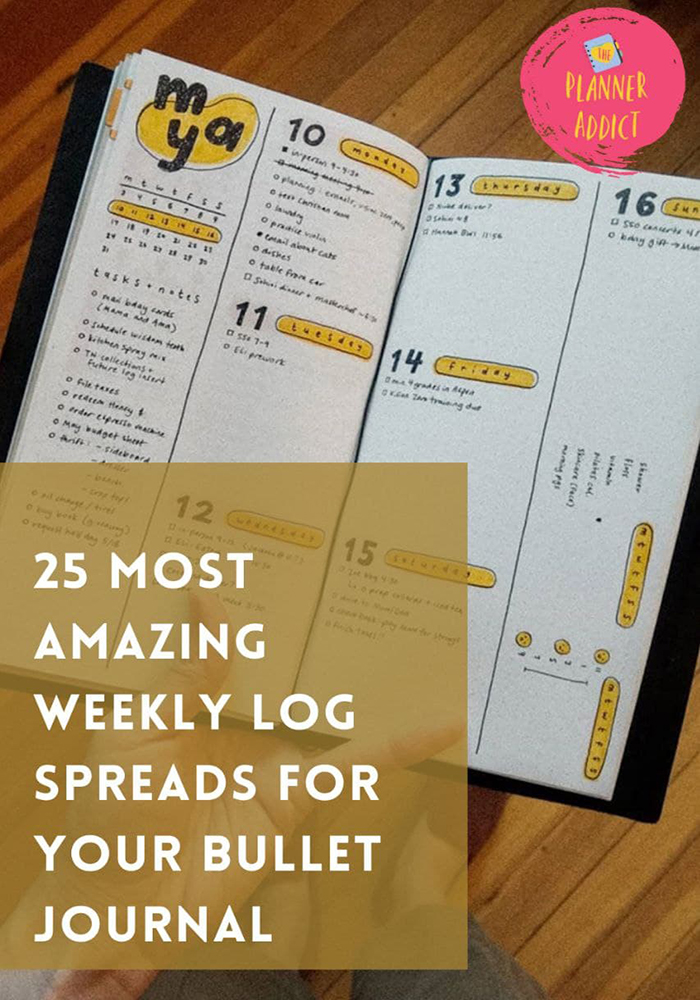 The incredible thing about Bullet journaling is that you can customize anything and everything according to your needs and choice. It gives you full freedom to explore your creative side and makes you your own BOSS, Isn't that cool!
Weekly logs are one of the most essential part in my bullet journal , despite I can plan my to do's for the day in my daily log but weekly log helps me get a glance for the whole week in just one go. I can easily breakdown my chunky task to mini goals for the week. Weekly logs are just the GO GO necessity for me, it keeps me updated and I can easily switch my task from one to day another.
Now lets see the weekly spreads by the most amazing creators!
25 Weekly Log Spreads for your Bullet Journal
1.Black and White theme
Adding those black birds as dividers for the page added so much life to this spread . The font on the left side is so flowy and casual . Overall for me this spread represents freedom in its own way .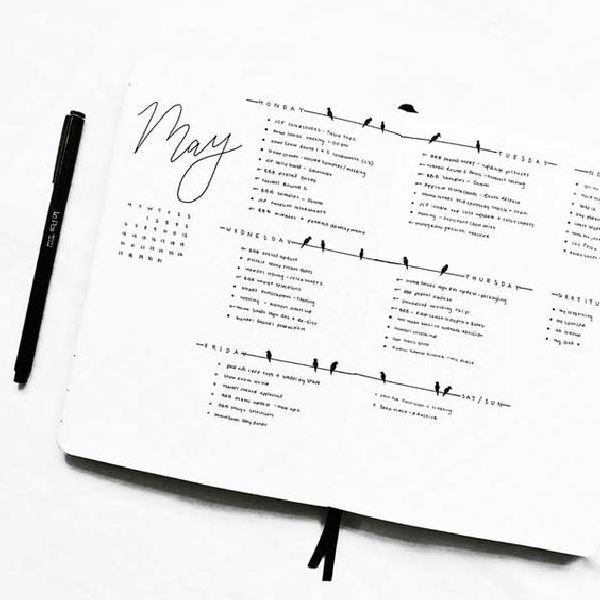 I like how these giant circles added a futuristic look to this spread . This whole spread is made out of circles and even has a tracker to track the number of steps which is so cool !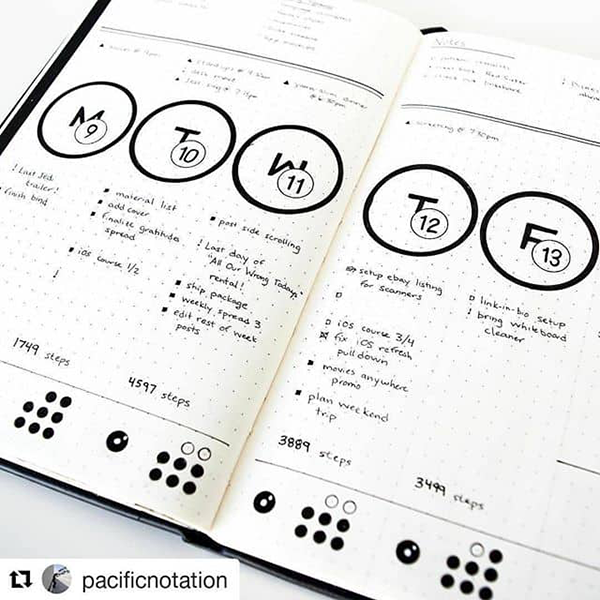 This is most amazing spread ! This spread will definitely get you productive. I really loved the idea of adding compartments on the page and covering almost everything you will need to track for the week .Just 2 pages for the week , wow!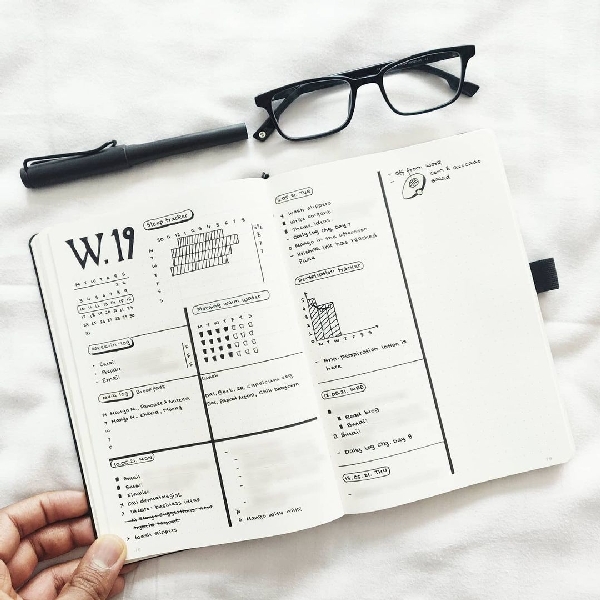 I am in love with black after getting across this flatlay . I really like how this picture was taken ,everything seems so vintage black .
The panel on the left with makes this spread more interesting , the more you look at this the more you want to know .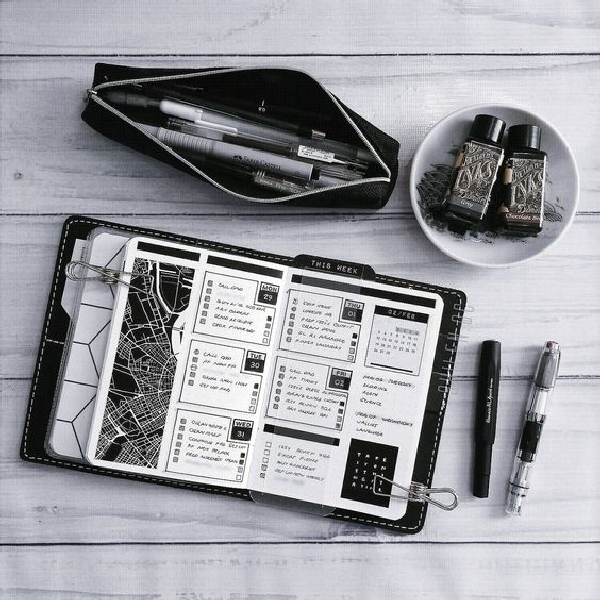 ---
2.Themed Weekly Log Spreads for your Bullet Journal
A weekly log inspired from city theme .This spread is perfect for you to pick your brushes again and paint. Revive your inner artist !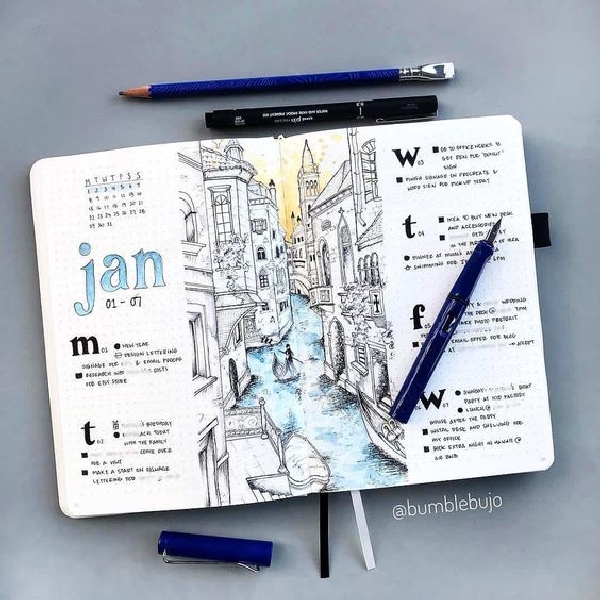 Look at this intricate spread ! I love the idea of using only two pastel colors as theme for the spread and including lots of doodles , even the sticker matches the theme .
Overall this spread can inspire you to be productive by having trackers , an interesting feature of this spread is the "next weekly log" section .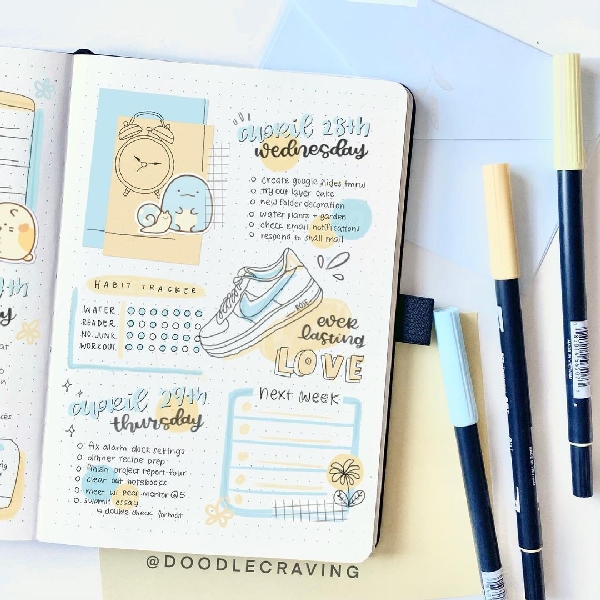 This eucalyptus inspired theme spread is so soothing . Its simple and elegant .I like how the texture of brown paper at the edge adds so much more depth to this spread .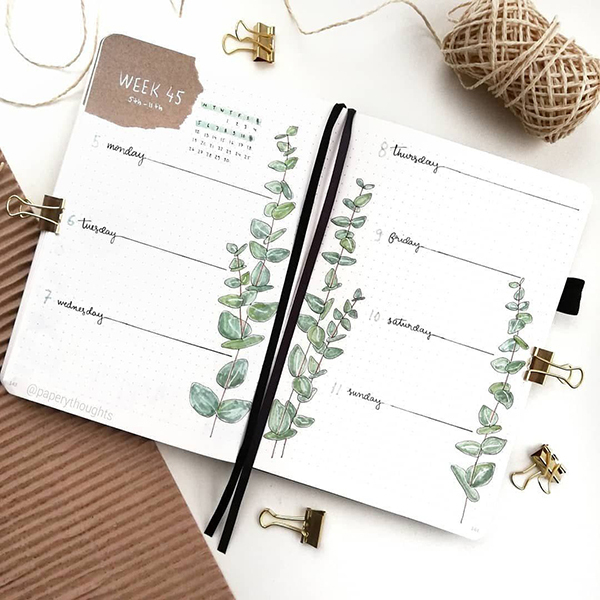 Another breath-taking taking spread ! All the colors and the drawing overall add a mysterious mythological vibe . A simple spread with so much interesting elements to look at for hours .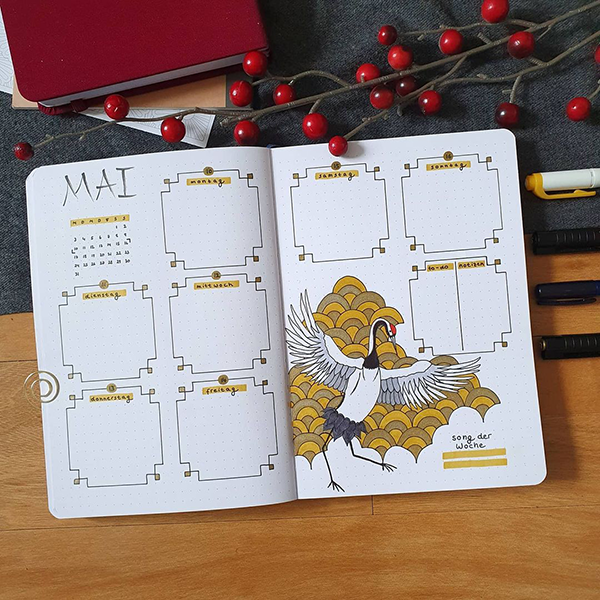 Ever thought of making both sides of page as one ? This spread is a perfect example of how to use a little bit of space from both the sides to add an artistic element to your boring spreads.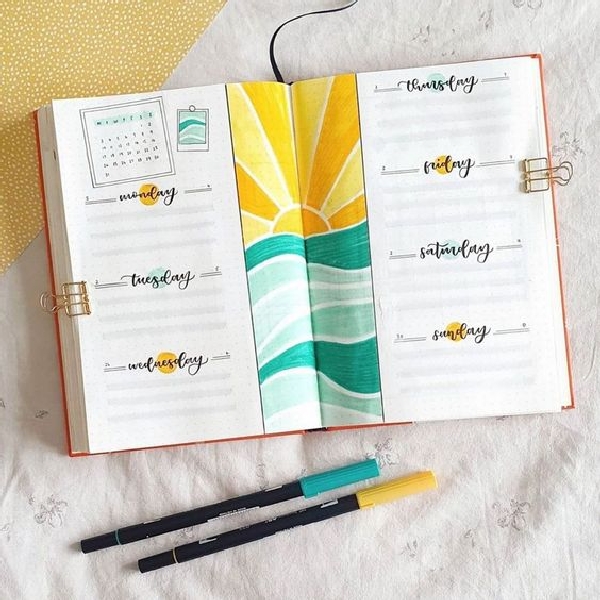 Have you ever thought "honey " as your next theme for the month?
Along with all the artistic elements , this spread is also very functional . I really loved how the space is being managed here with all weekdays in one page and using another page for to –do's and thought records.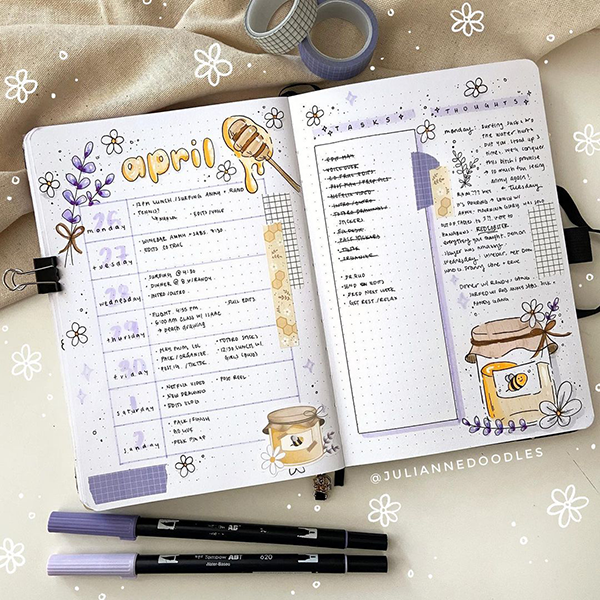 ---
3. Florals
A simple minimal vertical weekly spread with flower vase at every corner . I like how "no color" is being filled in the vase to show transparency and just pastel pink to add softness to the spread.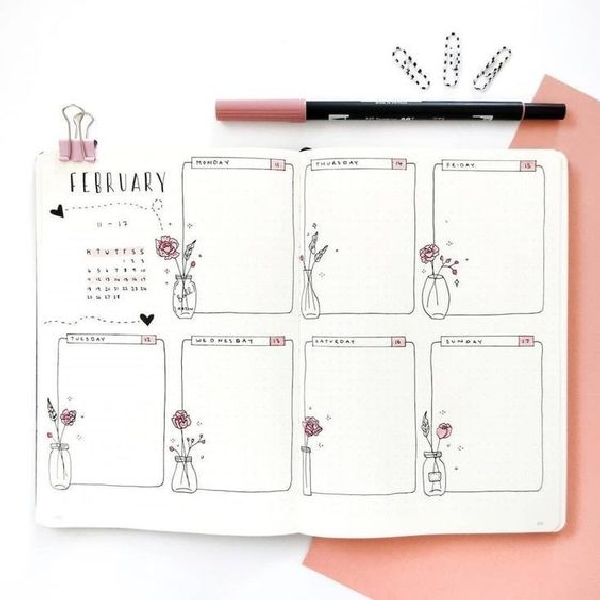 Another simple vertical floral weekly spread . Using just yellow and dark green hues to add contrast with white is so perfect to create a delicate feminine spread .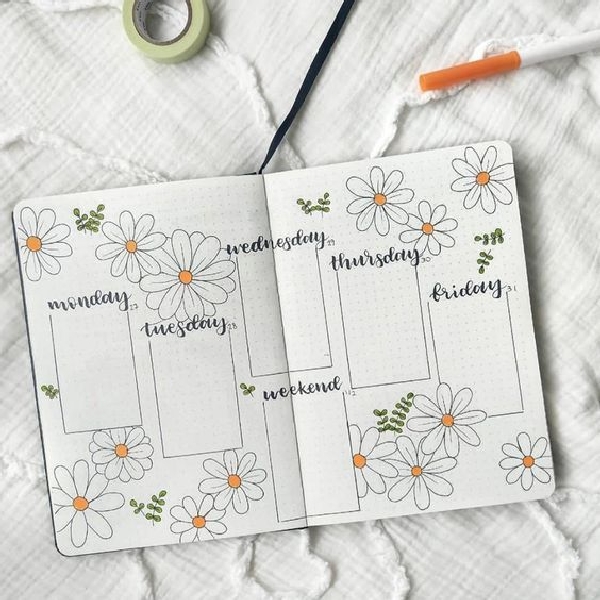 Do you want some good inspiration for maximalist spread ? This spread is just right for you !
Adding warp and weft like structure with vertical and horizontal lines on the left page gives a look of washi tape . Creating a blossoming spread with lots of flower doodles in the entire page is such an amazing idea.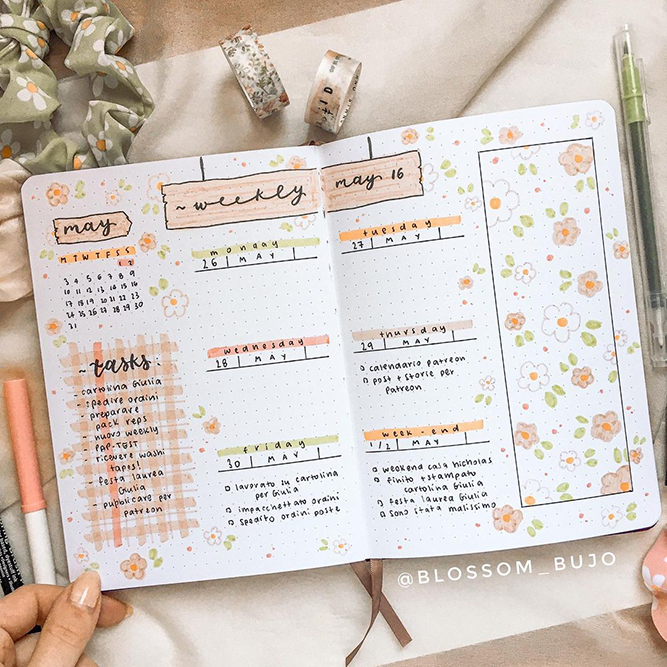 This spread is having identical floral line doodle both the side which makes it look symmetrical . I like how lettering is being done here with light wash of color in background and a cursive writing over it .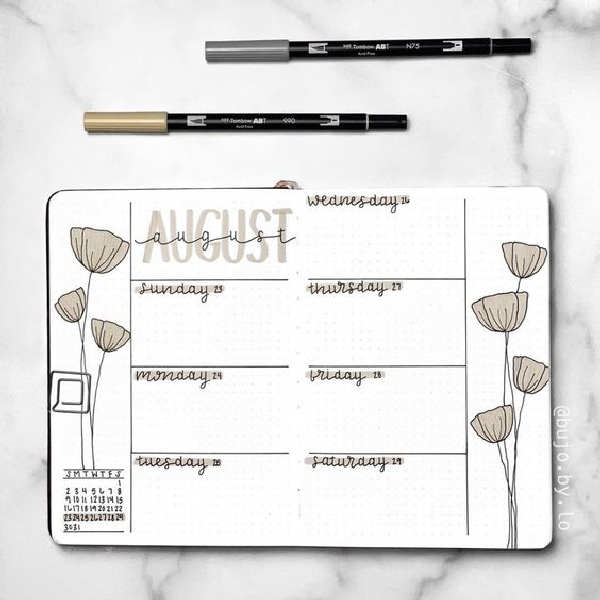 A minimal spread with simple line flower doodle . Remember , next time when you are running short of time but want to be creative then try out these one line flower doodles .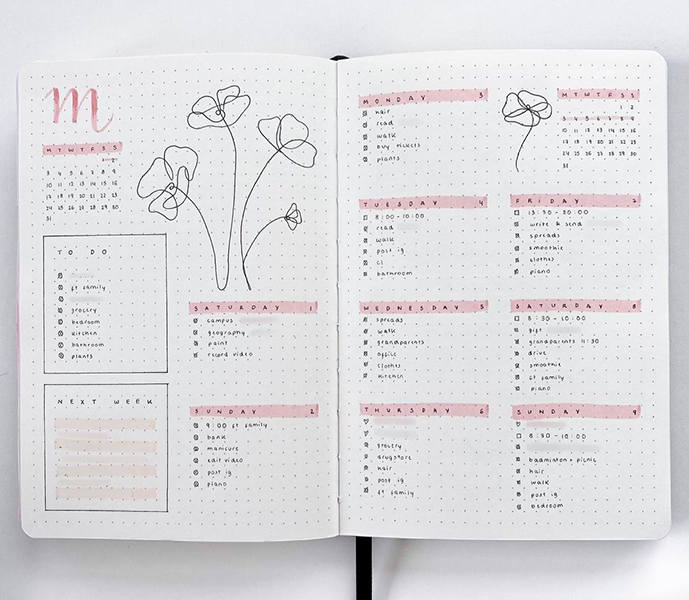 Do you want to feel bright and summery? Have a look at the colors of this spread . A perfect combination of contrasting colors that produce a happy high vibe .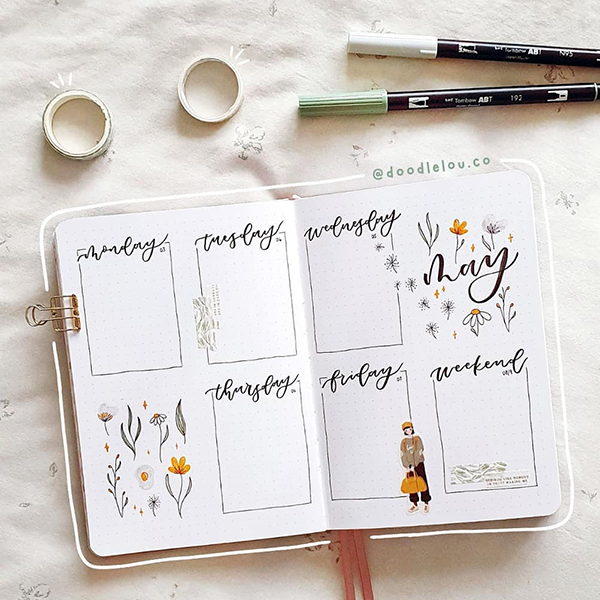 Daisy by your side ,this spread is a pure form of maximalist . I really like the combination of having minimal daisy and so much of writing .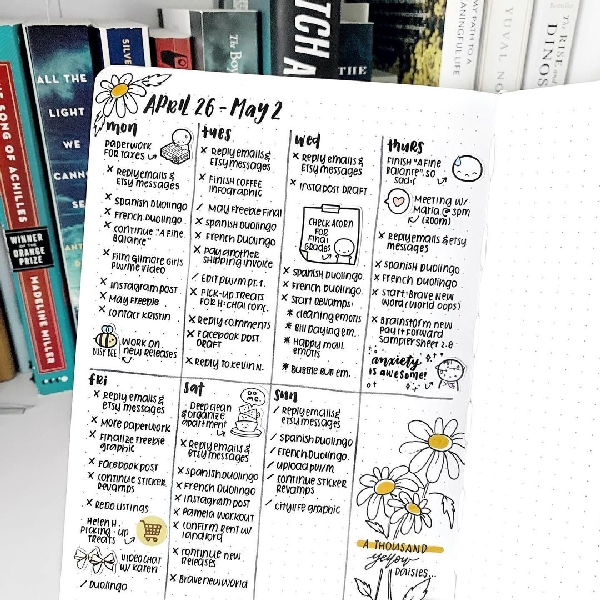 ---
4. Horizontal spreads
A pop of yellow color changes your mood so much ! An amazing spread using bright yellow with strong bold fonts is so soothing to look at .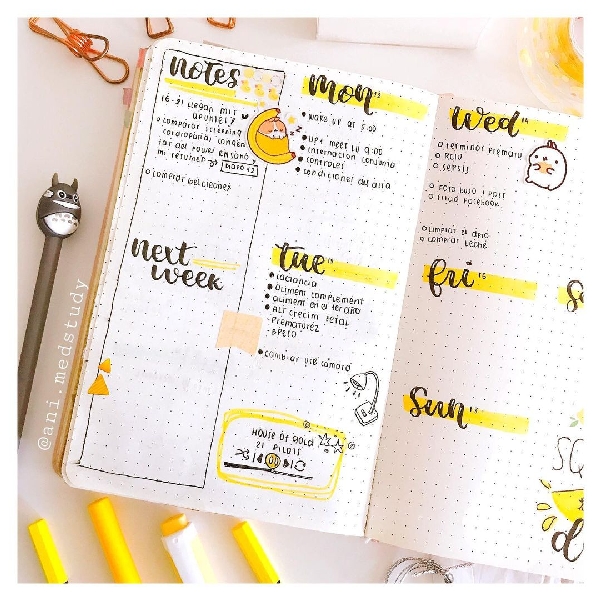 My all time favorite color and theme is vintage . I love everything about this spread so much from muted beige colors to all those little doodles. A perfect way to represent your day is to add stickers . So fun !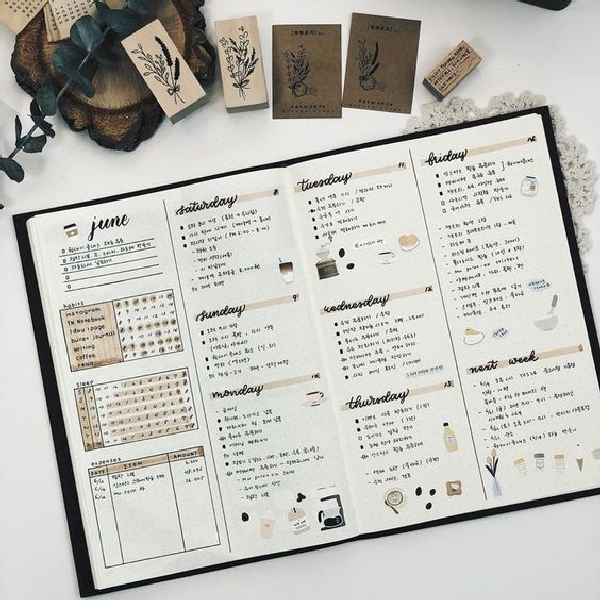 A simple productive spread with pop of colors . the round edge to everything adds a bit of animated effect .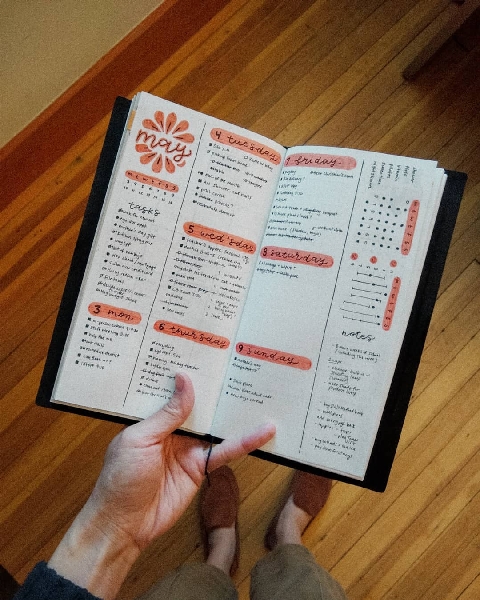 This spread is so simple but still looks elegant . So many shades of green can be seen in just one single spread . I also like how these bamboo doodle work as dividers.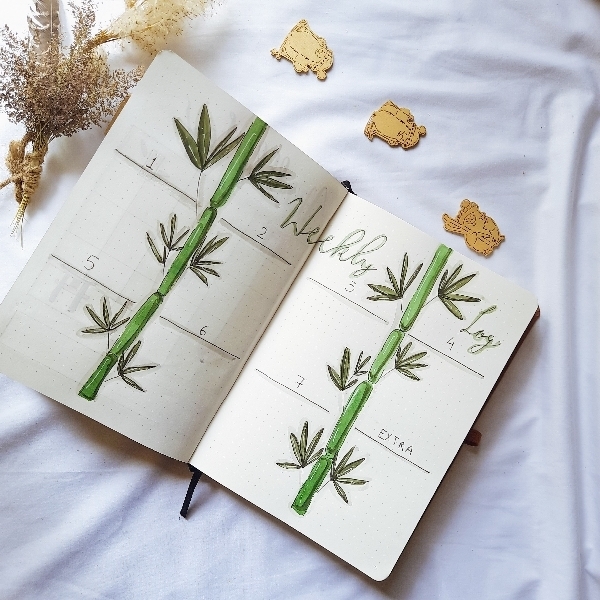 Have you ever tried collage in your spreads? This spread represent the creators mood by just an addition of simple image . You can too use different images to represent your mood or goal for the week.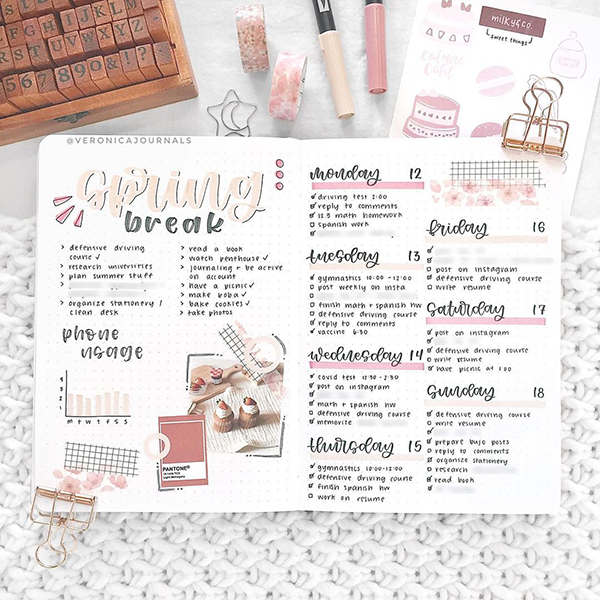 Using stickers and washi tapes are the best way to decorate your pages effortlessly . This spread tells you how you can use stickers at the corners and washi tapes as borders .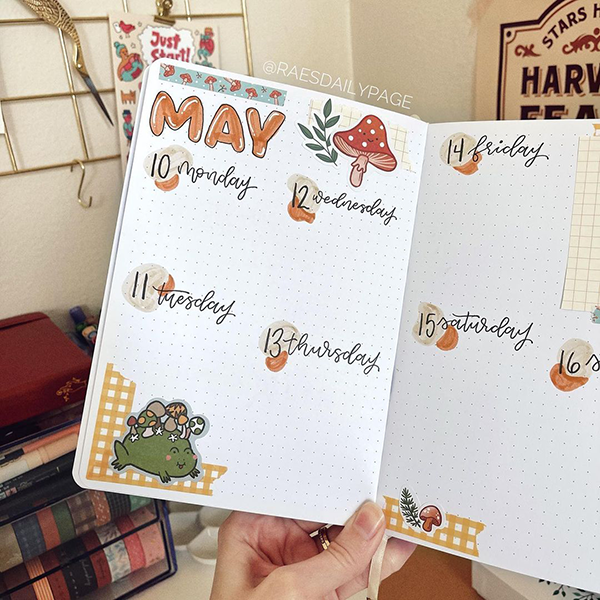 A minimal spread with muted blue color. An amazing thing about this spread is the weather tracker. Do weather influence your mood? For me it is for sure, I get grumpy in summers and lazy in winters and this idea is so perfect for me.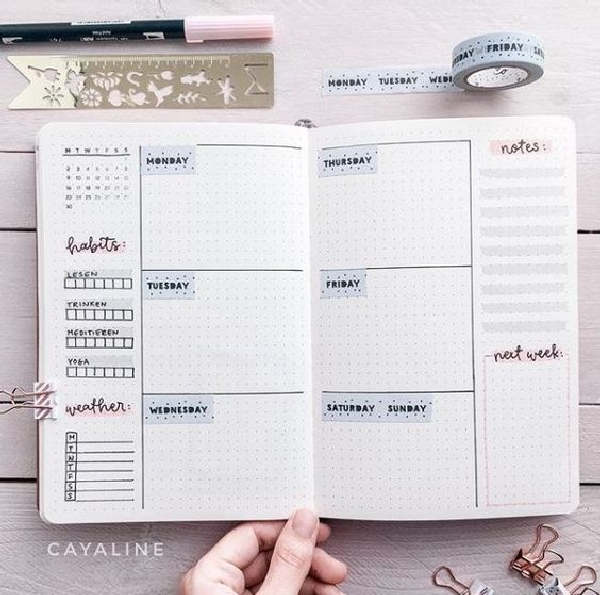 Inspired by Japanese theme ,this spread tells a perfect story how you can use doodles when you are out of stickers.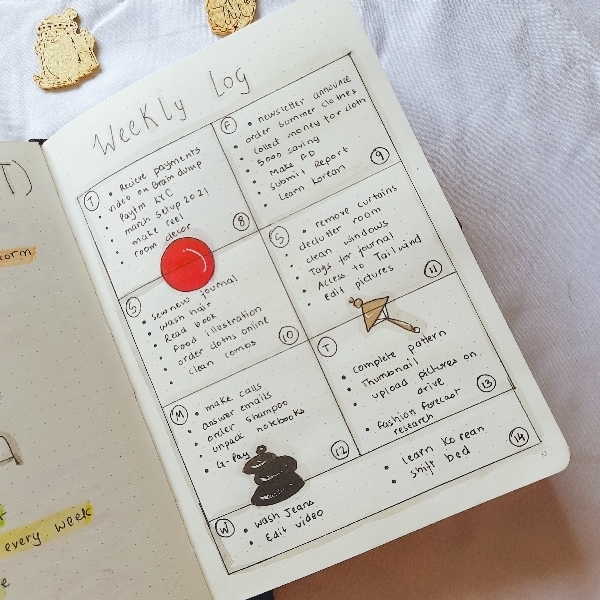 ---
Feeling inspired enough?
Now go and create something amazing today and tag us on Instagram to get feature on our page !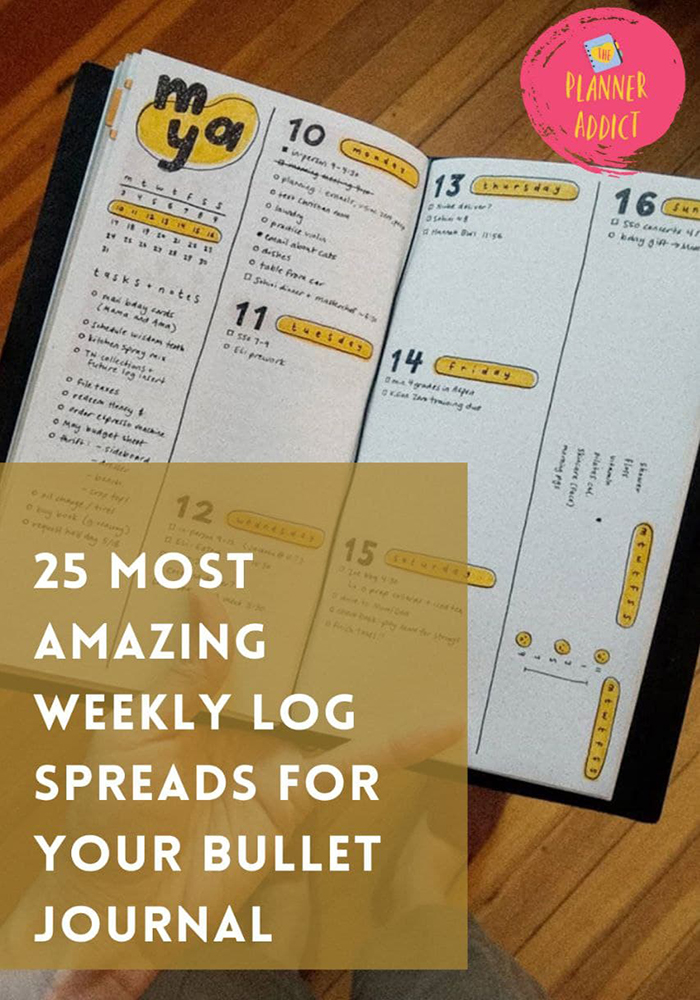 ---