Creative Journal are for EVERYONE !
It doesn't matter whether you are a creative expert or hobbyist or a seasoned artist we all need an outlet for our creativity . We all need a source of inspiration that keeps us motivated and ignites the drive inside .
Creative journaling has many mediums and numerous names . In this blog we would get to know about few of these and what benefit they hold for us.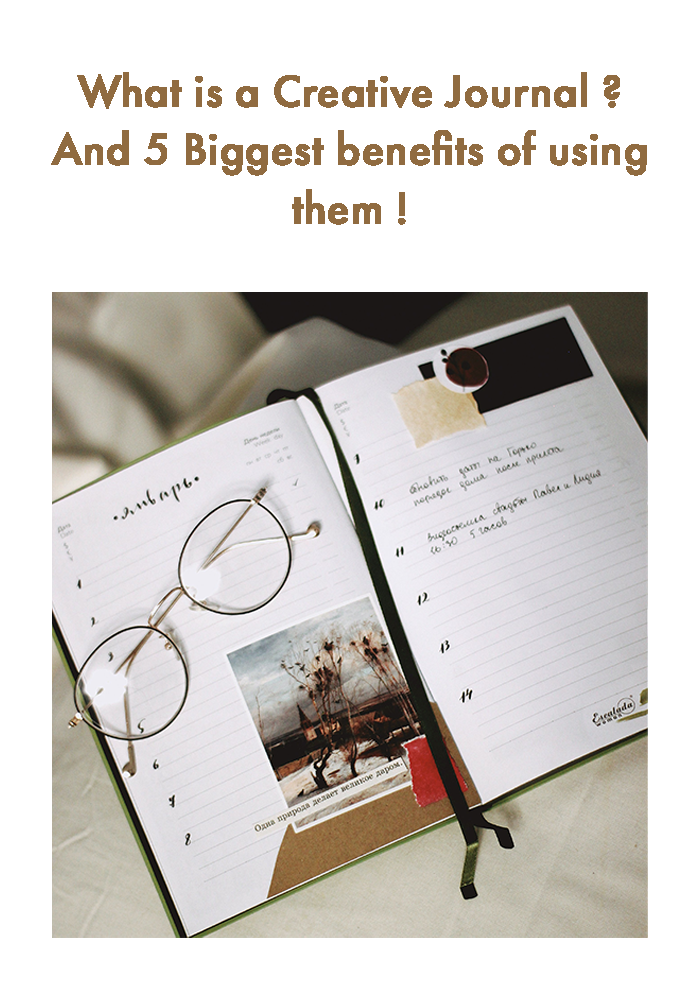 WHAT IS A CREATIVE JOURNAL ?
Creative journaling is a form of self-expression that allows you to record your thoughts, feelings, and ideas. This type of journaling can be used to work through problems, to come up with new ideas, or just to relax and reflect on your day. Whether you're a beginner or an experienced journaler, these tips will help you get the most out of your creative writing experience.
Creative journaling is not only limited to words on paper . You can do so much more !
You can scribble ,splash paints , write , paste and layer photographs etc.
In simple words a creative journaling is a mix of words and art . Let it doodle diary , junk journal , collage art , pen art etc all find their home on pages creative journal.
TYPES OF CREATIVE JOURNALS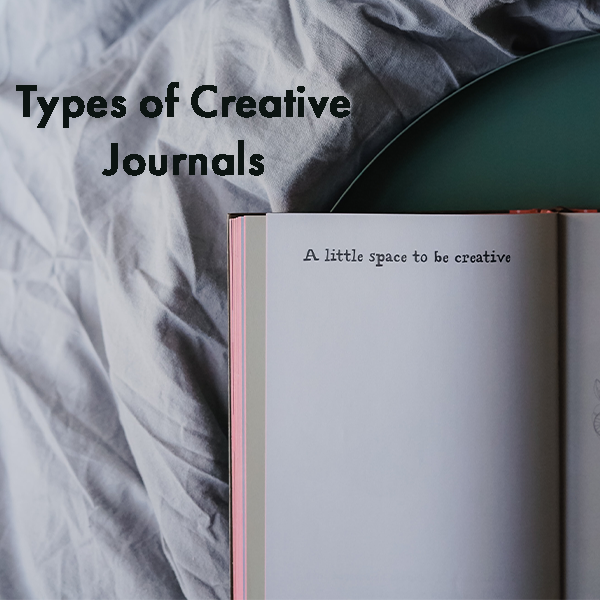 Daily Writing journal
This can be for people who love creative writing and are always brimming with new ideas . Before they miss out on any of those , they try to store them in a journal .
Daily writing journals can be a casual journal that might contain notes about random things and ideas of general life , a movie you watches last weekend , or your own observations etc.
There are Creative writing journals where a person dedicate a serious amount of time to process their thoughts and cook new stories and content . This is often done when you are brainstorming for a project ,a long term writing goal or trying to improve your writing skills
Art Journal
Want to taste the slice of an artist life ? Get your hands on art journaling !
Art journals are so wonderful and let you explore your creativity to heights . If I had to recommend any one journal to someone , I would definitely go for art journals . They are the safest place for our inner child to make anything it wants to . You can paste pages , create doodles , paint skies , put pictures and wrapper etc. . A perfection in abstraction can be achieved with art journal . Not everything you make has to mean something to someone , it has to hold a special emotion to you only.
Travel Journal
A travel journal is a diary or recording of your travels, which can be used to document your experiences, recollect memories, and share insights with others.
There are a few different things that you can include in your travel journal. You could write about the beautiful sights that you saw while on your trip, the interesting people you met, the delicious food that you ate, or anything else that comes to mind.
Some people also like to write about their thoughts and feelings during the trip. This is a great way to get organized and figure out what was going on in your head at all times. It can also help you process everything that you experienced on your trip, which may make it more memorable for you.
Overall, a travel journal is a great way to document your travels and share them with others. It can be fun and helpful at the same time!
Check out this blog : What is a Travel Journal and Why use it ? – Beginners guide Part – 01
Collage Journal
Collage journaling is a great way to capture your creative ideas and impressions in a visual format. It's perfect for people who love to use their hands and enjoy creating things on paper.
There are many different types of collage journals out there, so it's important to find one that suits your creative needs. Some popular styles include dot grid, watercolor, chunky pen and ink, and mixed media journals. All you need is some paper (a lot of it!), pens or pencils, and whatever else you feel inspired to use.
Once you have all the materials ready, start by sketching out your ideas on paper before beginning to fill in the pages with your artwork. You can experiment with different techniques and techniques combinations to get the results you want. Be sure to add captions or other notes alongside your images to help you remember why you chose each one.
When finished, don't just put away your journal; display it proudly so that others can admire your work!
Some other Creative Journal Ideas
Video journal – Capture videos about your daily life , things you love etc. to store them as memory.
Scrapbook- Stick pictures that you admire and
Recipe journal
Doodle book
Sketchbook
Bullet Journal
Junk Journal
Scripting journal
Affirmative Journal
Common place Journal
Check out these blogs :
25+ Daily Affirmations to Improve your Mindset and Self Confidence
A Beginner's Guide to the Art of Reflective journaling with reflective journaling prompts.
REASONS TO USE A CREATIVE JOURNAL
Although i can give you 100 reasons to start a creative journal today and how it can benefit in your day to day life but today I would talk about 3 reasons that top my list .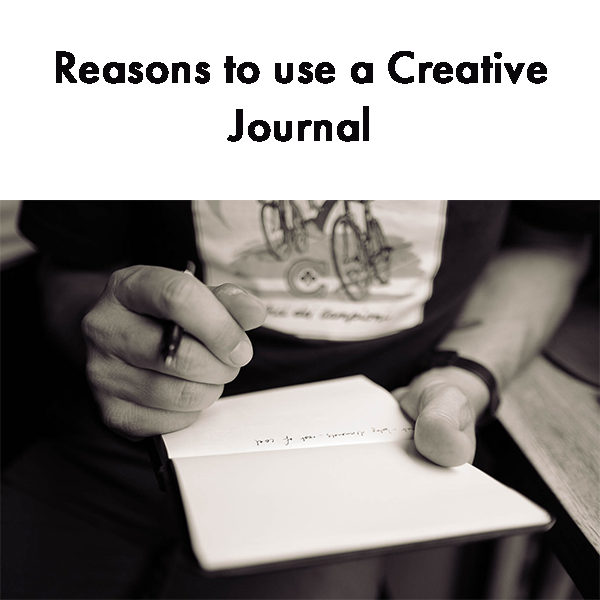 Let's you take a deep dive in world of art and beauty !
Just in case you are thinking to take a sip of an artist life then you can definitely do it with creative journaling . A safe place that lets you do YOU . You get to create all things you love with one to judge you , no competition ,no comparison , you just do what you love . Freedom is another name of creativity and I absolutely the feeling whenever I get to express myself in words or in art .
You can choose your weapon and start journaling , some people love writing and create aesthetic diaries where they write all their creative thoughts . While some find peace in art and splash paints over the pages to create what their heart speaks to them . Either ways you are opening yourself to new opportunities of creative levels .
Alot of times we hold ourselves back because we either think that we aren't good enough or haven't yet explored the creative world . Creative journaling lets you do that effortlessly and helps you unlock many doors.
Silence the noise of doubt and create self-confidence .
Are you afraid of using black in your paintings ? Are you doubting yourself that you can't write those music lyrics the way you feel ? Or are you not sure how that book you wrote might sound when read?
Then you might need a break from your insecurity sessions and take up few classes of self-confidence . Its totally normal to feel that way , even I do and everybody else too ! The only thing that you can do to make a difference is to face the challenge . Creative journaling for artists as well as for non-artist is a very small step to face all their challenges and insecurities in a very small form.
It takes courage to write that book, to paint that picture but every time you choose to pick your brushes and pen you already won half the battle . Creative journaling lets your past insecurity go away by choosing the things you are afraid or doubted in the first place .
Visualization/ Goals Keeping
Yes! You read that correctly V-I-S-U-A-L-I-Z-A-T-I-O-N , the most effective technique considered by most of the productivity gurus and motivational speakers. You must have heard that by just visualizing your goals , you can motivate yourself to work harder toward them .As visualization creates a rage and fire inside your heart while keeping in mind that you believe in them . Creative journaling is a beautiful way that lets you add pictures along with writings to support your pictures where you can express your dreams , goals in a better way .
Flip your journal to your goals page and you can easily visualize your goals that not only motivates you but always remind you why you started what you are doing . There are plethora of examples available on the internet on how you can make a visual board in your journal and how you can visualize it so that it motivates you to achieve your end goals.
How do you write a Creative Journal ?
Creative journal writing can be different for different people . Some people try creative journaling to improve their writing skills while some do to acknowledge their feelings. There are a lot of creative things to write in a journal
To start a creative journal , you can start with a 20 minutes timer . If you already have a topic in mind then you can write about that topic but in case you want to experience free flowing writing then you can let your thoughts wander off . At times its hard for some people to sit and write therefore you just have to keep a mindset that you would give writing a try for 2 minutes only and eventually you would end up doing more than that .
What should be included in a Creative Journal ?
Here are few ideas for Creative Journals you can try !
1. draw a doodle
2. Summarize your day in 20 words.
3. Affirmation journal
4. Bullet Journal
5. Art Journal
5. Mixed media / Junk Journal
6.Gratitude Journal
7.Write out the lyrics to your favorite song or print them out and paste them into your journal.
8. Compose music
9. Write stories
10. Goal setting and visualization