Want to start bullet journaling but don't know where to start? Here is the Ultimate List of Essential Bullet Journal Supplies to help you out!
So you've decided to start bullet journaling – congratulations! You're in for a wonderful journey of dreaming, planning, and letting your creativity flow. Now that the decision has been made, it's time for action – and for gathering your Bullet Journal Supplies!
If you are hearing about bullet journaling for the first time, it's a planning system designed by Ryder Carroll, a designer based in New York. Bullet Journals follow a specific system of entering information, tracking it, and moving it. You can get more information about bullet journaling from Carroll's book, named 'The Bullet Journal Method'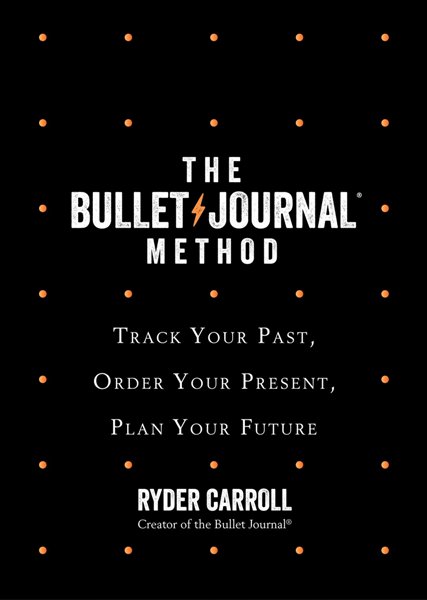 What makes the bullet journal (or Bujo) so popular is that it is 100% customizable, and can be designed to suit your lifestyle and personal preferences. However, to get the system going perfectly, you need to have the right Bullet Journal Supplies!
Do you really need anything more than a book and pen?
Well, technically no. All a bullet journal needs is a book and a pen, but once you get more involved in the Bujo world, you'll realize that it's handy to have many other items that can make your journaling experience more efficient and of course, more fun!
Are bullet journal supplies expensive?
Yes, and no. As mentioned earlier, you can start with a simple notebook and a basic pen, and you can go up to – well, there really is no upper limit! Today, bullet journal supplies are widely available, and there are many companies making these supplies all over the world. As a result, you're spoilt for choice and also have a wide range of price ranges to choose from.
If you're a beginner in the Bujo world, it's easy to get overwhelmed, which is why we've put together this guide on essential Bullet Journal Supplies. These include things that are must-haves, as well as some special items that'll really give you a kick out of bullet journaling. Let's check out what they are!
The Ultimate List of Essential Bullet Journal Supplies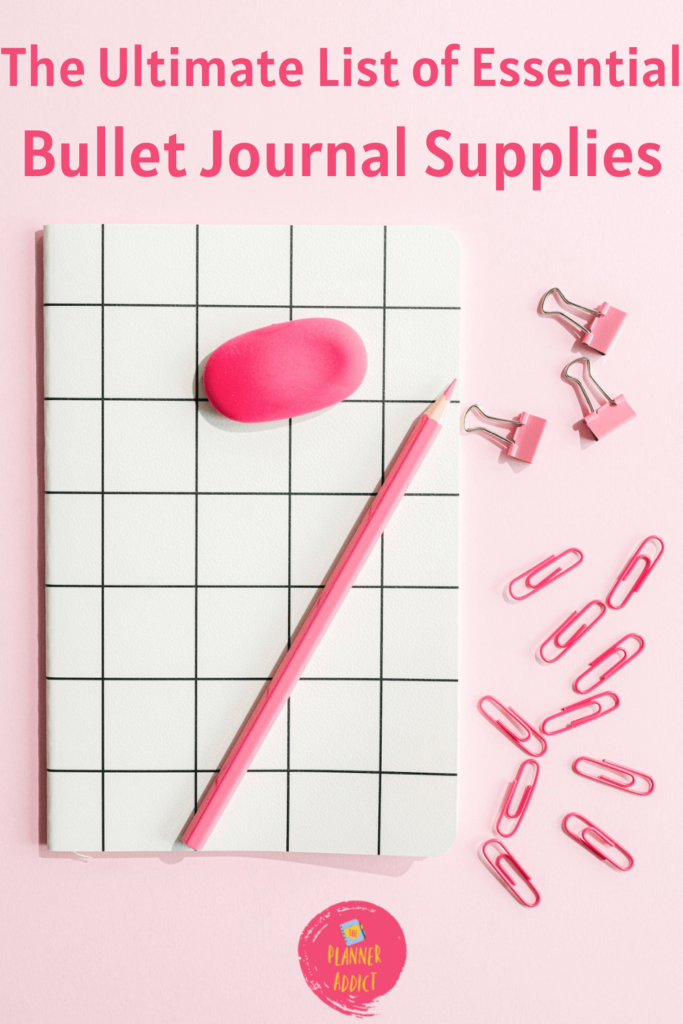 1. Notebook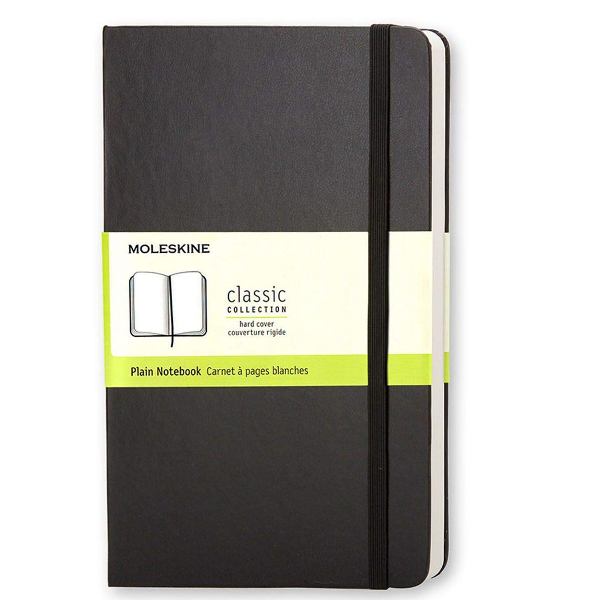 What is the single most important thing you need for bullet journaling? A journal, of course!
Your notebook is going to form the foundation of your journaling practice, so it makes sense to put some thought into it. You probably know that there are several notebook brands in the market today, and the choice is just staggering! However, if you are an absolute beginner, we'd recommend starting with a simple, inexpensive notebook. Once you're sure bullet journaling is for you, you can start exploring better options.
Here are the most important factors to consider when choosing a notebook for bullet journaling:
Binding – you can choose one according to your preference – hardbound, softbound, or even spiral bound
Size – You can choose any size you like, although most people prefer A5, A6 or B5
Paper – It's best to go for at least 80 GSM thickness to prevent bleeding; 100 GSM if you plan to paint
Color – Not all paper is the same white – it can be a more yellow or a more bluish shade of white
You'll also find notebooks that are plain, ruled, or have a dot grid. Most bullet journal users prefer the dot grid as it offers more flexibility and space for creativity. Other things to look for in a notebook are an elastic band to keep it closed, a ribbon bookmark to mark your place, and a back pocket to hold stickers or notes.
Scribbles That Matter, Leuchtturm1917, Dingbats, and Yop & Tom make some excellent notebooks, along with the classic Moleskine ones.
2. Pens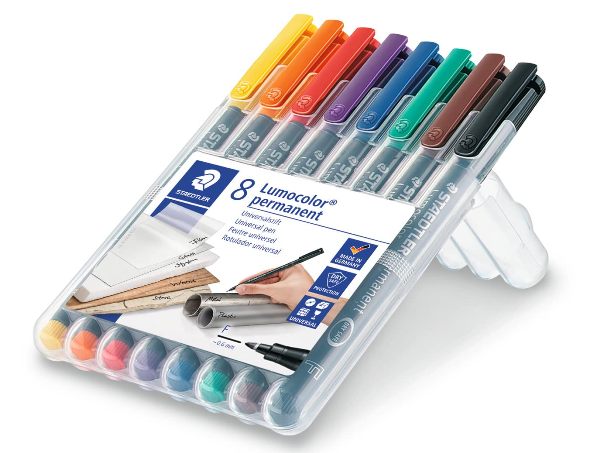 So you have your base, and you now need to actually do the journaling, for which you need a writing tool. While pencils are great to erase mistakes easily, most people prefer the joy of writing with a good pen. And this is one aspect that can completely make or break your bullet journaling experience. It's the difference between writing with a buttery smooth pen that glides across the page or a thick nibbed pen that scratches the paper or worse, leaks!
The ideal pen for a bullet journal would be one that doesn't bleed, dries quickly, and doesn't smudge. Water-based inks are best for this, although you can really go with what you like. The most common preferences for bullet journal pens are gel pens, ballpoint pens, fine liners, felt tip pens, or fountain pens if you're feeling fancy.
Most people use blue or black ink for their everyday writing, but you can also keep some colored pens on hand, to create little doodles or to mark certain events or tasks. Nib size also matters – between 0.3mm to 0.5mm seems to work best for writing. You can also get a set of pens with different nib sizes for doodling, shading, or adding fine details.
You'll easily find economically priced pens at your local stationery store, but if you want something special, go for the Pilot Frixion pens which are retractable and erasable. For fine liners, you can go for Sakura Pigma, and if you want a colored set, check out Zebra Sarasa or the Staedtler Lumocolor set. If you plan on doing a lot of artwork, you may consider investing in a set of Faber castell artist pens.
3. Markers & Highlighters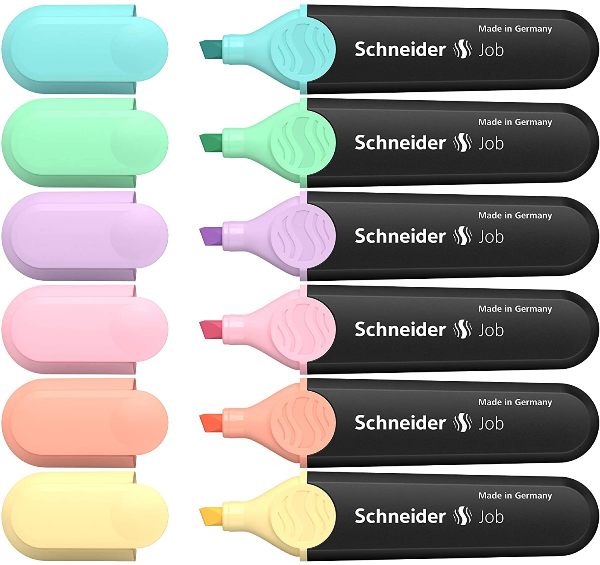 Maybe you don't want to create a lot of art in your bullet journal, but you still want to add some color. In that case, make sure to include some colored markers and highlighters among your bullet journal supplies! These are great to highlight headers, important tasks, and appointments, or you can use a particular color highlighter to cross out tasks that are finished.
When it comes to markers, the classic Sharpie is a great pick. As for highlighters, you can go with traditional ones with fluorescent tones like this set from Schneider, but if you prefer pastel shades, Stabilo has some great sets.
4. Correction Tape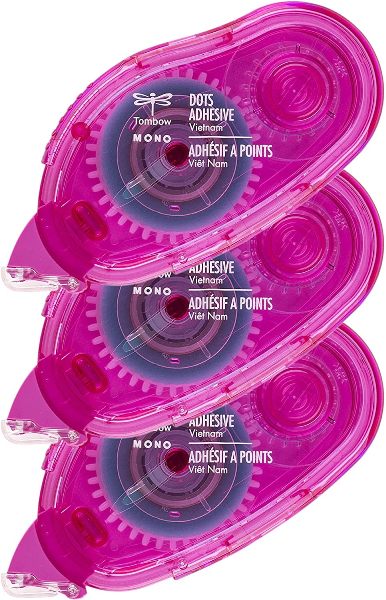 We all make mistakes; after all, we're human! However, a fear of mistakes shouldn't stop you from using your bullet journal; especially if you've been smart enough to stock up on correction tape beforehand! You may be familiar with the white fluid that is generally used to cover up a mistake, but this one is just a little fancier and easier to use – not to mention less messy!
The correction tape is really easy to use – you just press the tip of the roller at one end of the part you want to cover and roll it across the area. It dries instantly and you can write over it right away. They're quite inexpensive too, so you can get a few and stock up on brands like Kokuyo.
5. Ruler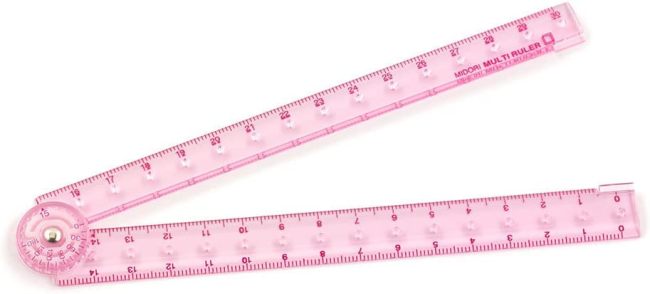 Rulers are a necessity when bullet journaling, especially if you're working with a plain notebook, and even otherwise. It helps you create tables, charts, and trackers as well as draw margins to keep your journaling neat. If you create monthly and weekly spreads according to a certain layout, you may require a ruler that spans both pages of the journal, in which case it's best to go for a full foot-long ruler.
A stainless steel ruler is a classic and will last a long time, but for portability purposes, a foldable ruler works best. Transparent rulers are perfect for seeing exactly where you're drawing your lines. And when in doubt, you can always draw with a pencil first!
6. Stickers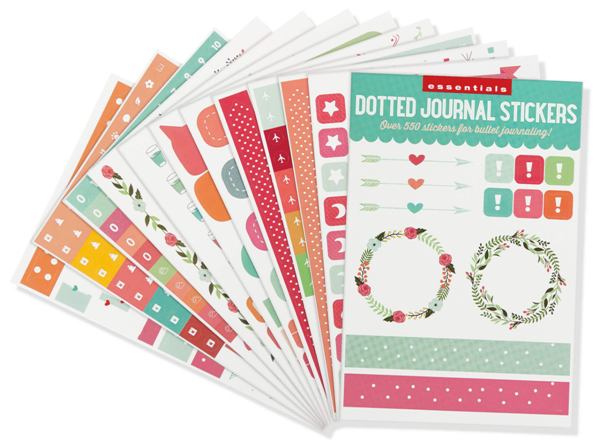 There is an entire world of stickers out there for the planning/bullet journaling crowd – it's impossible to know where to start! Stickers come in all shapes, sizes, and themes, and you can use them in any kind of journal or planner. Stickers are most often classified into two categories – functional and decorative. The functional stickers often indicate some activity or task, like 'doctor' or 'bills'. On the other hand, decorative stickers are, as their name suggests, purely decorative in nature.
If you're not that confident about your doodling or drawing skills yet, stickers are the perfect way to add some interest and color to your planner, without taking up any time or effort. If you have a color printer at home, you can buy some plain sticker paper and print out stickers yourself – there are many, many free printables available.
If you don't want to bother with that, you can buy readymade stickers either as sheets like the ones from Clever Fox or Inc Peter Pauper Press, or you can get sticker books like the ones from MAMBI or Pipsticks.
7. Washi Tape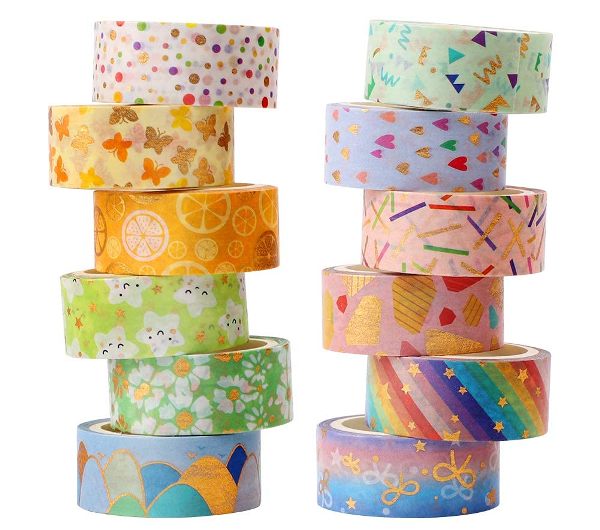 Washi tape refers to decorative adhesive tape, which has pretty patterns in various colors and sizes. They're a good middle ground between colored markers and stickers – they're not as overwhelming as stickers, but they still offer more structure and ease of use when compared to markers.
Including washi tape among your bullet journal supplies has many uses, such as:
Creating borders or margins on a page
Separating different sections of a page
Identifying categories of tasks
Covering up a mistake or a mess
Sticking a piece of paper or a note on the page
It is very easy to go overboard when buying washi tapes, so we'd suggest starting with a small set, like this one. You'll find washi tapes in various themes, like food, pets, flowers, and nature as well as functional ones like checklists or dates.
8. Sticky Notes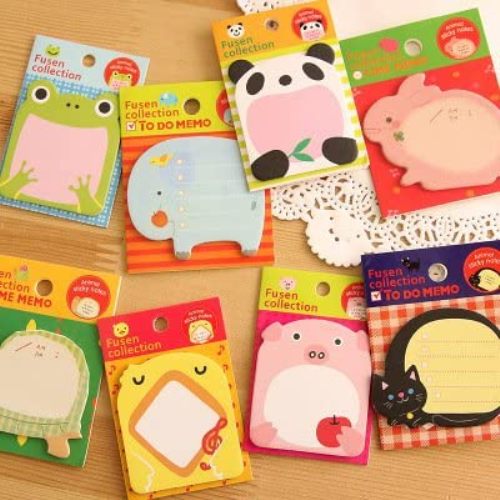 In addition to the correction tape, sticky notes are another great item to include in your bullet journal supplies arsenal, especially if you're the kind of person whose plans change frequently. With sticky notes, you can write down an event and stick it in a particular day's or week's layout. If the event is rescheduled, you can just remove the sticky note and stick it elsewhere.
With so much flexibility, it's not surprising that sticky notes have become a favorite in the bullet journaling and planning community! They're also great for jotting down points before you forget them, as well as to act as a highlight of the day.
Sticky notes are available in many forms, and you can get 3M's classic set of Post-its in multiple sizes to serve a variety of purposes. If you want something larger to hold lists and to-dos, Mr. Pen's sticky notepads are great or you could always go for the cute versions!
9. Adhesive Roller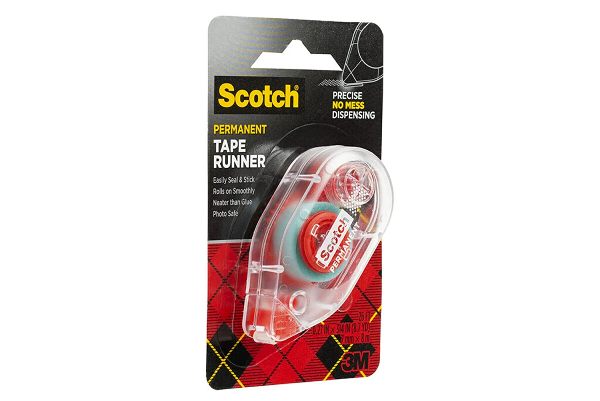 This nifty little item is what you get when correction tape marries glue sticks and they have a child! You may want to stick something in your bullet journal from time to time, whether it's a little photo, a quote you cut out from somewhere, or a receipt as a memory of a great time.
Whatever it is, using a glue stick can be messy, and sometimes inconvenient, especially if you want to stick really small pieces. This is where the adhesive roller comes in, and it works the same way as the correction tape. The roller is also perfect to stick printables for your bullet journal. Tombow and 3M make some decent adhesive rollers.
10. Stencils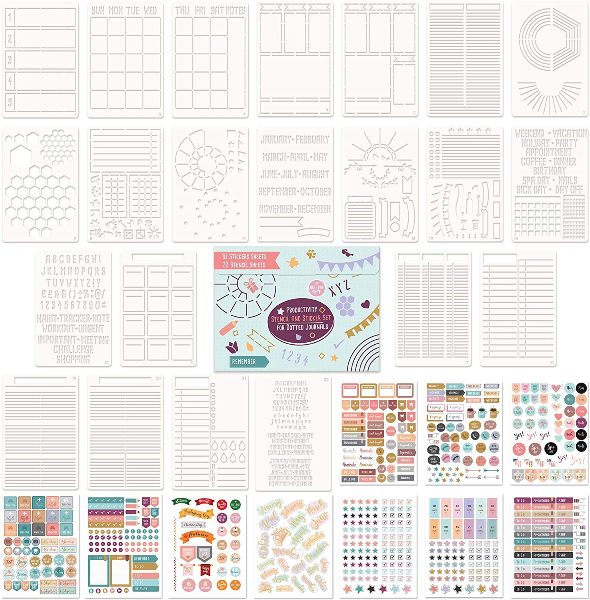 Unlike a planner, a bullet journal is a completely customizable system, and this also requires you to create layouts and spreads by yourself. You'll often need to draw boxes, circles, or similar shapes for various purposes, and while you can very well draw them using a ruler and compass, it's much easier to use a stencil.
If you want just the basic shapes, this set will do, as it contains 3 pieces including a Hyperbola- Parabola template. However, if you want to go the whole hog, we recommend the Ultimate Productivity Stencil Set which has a whole array of shapes, headers, banners, layouts, and much more!
11. Stamps & Stamp Pad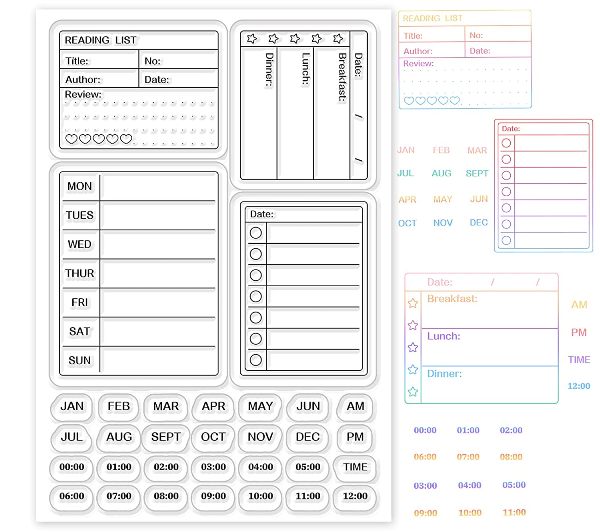 One thing about stickers is that once you stick them, you're done – unless you go and buy more stickers! If you find that you have some recurring themes every week or month for which you have to buy stickers frequently, it might be time to consider using stamps instead.
Stamps are reusable, so you can use them over and over again, as long as you have ink. They're also faster than drawing or doodling, and help you create your spreads quickly. Most stamps available today are either wood/rubber or acrylic.
The wood rubber stamps can be used as-is, but acrylic stamps will most probably require a stamp block. Stamps are available in various themes, and ones with calendars and trackers, like this Globeland one, are quite popular. You'll also find stamps with icons and functional motifs, like this set from Lawn Fawn. The wood-rubber versions are usually decorative, and you can check out this set from Healily if you'd like to give it a try.
Another great thing about stamps is that you can change the look simply by using ink of a different color. Get a set of colored ink pads and you can create all kinds of themes. Keep the stamps clean by using baby wipes.
12. Patterned Paper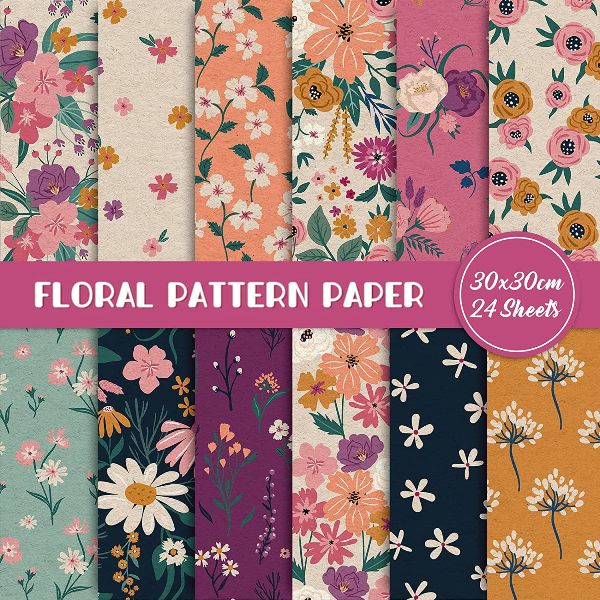 Pattern paper is something that more advanced bullet journaling fans use. If you're a crafty person by nature, you will love using patterned paper in your Bujo – the options are endless! You can cut out shapes from the paper and stick them in your spreads, or you can cut out strips and use them as washi tape.
Patterned paper packs are available in many colors and themes, and you'll be spoilt for choice. They are quite inexpensive too, and you'll find great packs from brands like Whaline, Echo Park Paper, and Simple Stories.
13. Paints & Brushes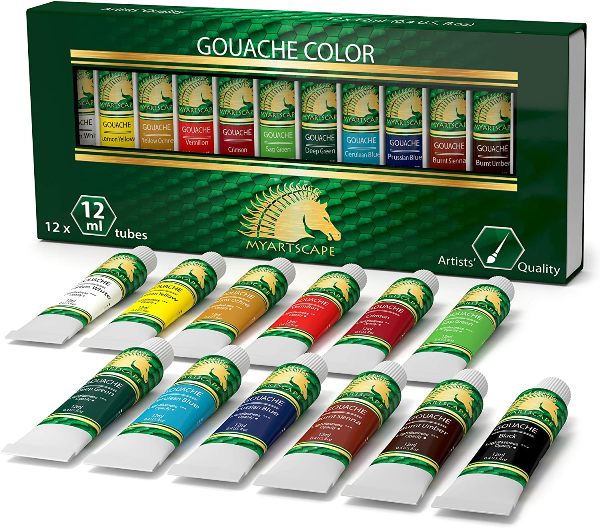 If you thought that a bullet journal was just for writing and highlighting, think again! Even while you stay within the bullet journaling system, there are many other creative outlets for your imagination, which is why paints and brushes become a great addition to your bullet journal supplies list.
When it comes to paints, you can use watercolor, tempera, acrylic, or gouache. Whatever you use, make sure your paper is thick enough to handle the paint, at least 100 GSM. When getting your paints, make sure you get a few good quality brushes too.
14. Stationery Pouch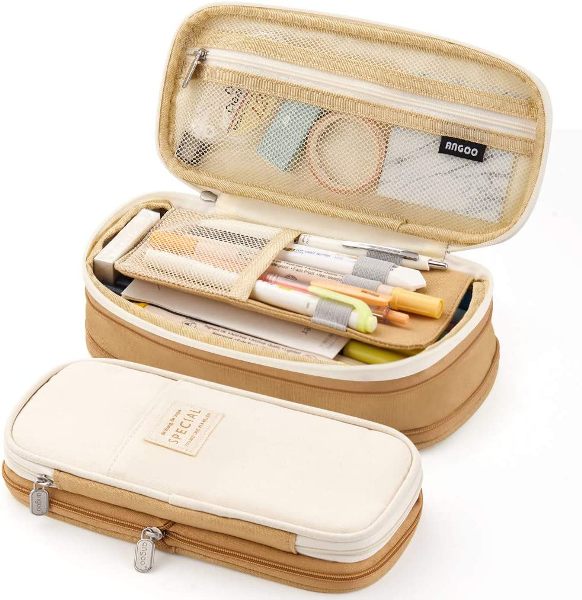 Now that you've gathered together all your bullet journal supplies, you need to ensure that you have a system to carry them around with you! This is especially important if you travel a lot, or if you use a shared table for journaling, which you need to clear when other family members need it.
A good quality stationery pouch will help hold all your bullet journaling essentials, and keep them safe while you're on the go. Going with a broad-shaped pouch will give you easy access to all your bullet journal supplies. If you want something neutral, check out this Easthill pouch that has lots of space, or go for this one from Scribbles that Matter which is a complete bullet journal storage solution.
15. Storage Organizers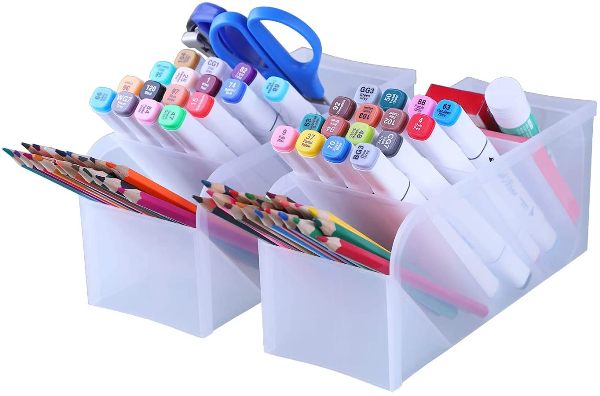 When you have so many bullet journal supplies lying around, it can quickly take over your entire room – or in extreme cases, the entire house! To prevent this situation, the first thing to do is this – don't buy everything! Yes, it can be really tempting, especially if you're starting out on your bullet journal journey.
However, as many experienced Bujo veterans will tell you, keep your excitement under control, and get only a few things to begin with. This will help you actually test it out and also prevent unnecessary expenditure. Now to organize the things you have, you can use storage boxes – choose stackable ones to make use of vertical space.
If you've got a lot of pens, it's better for them to store them horizontally, for which you can use a pen storage stand. These will keep the ink in pens in good condition. For washi tapes, you can get a washi tape dispenser. This can be stacked too, to accommodate your growing collection. If you tend to move around the house with your bullet journal and supplies, get a caddy to keep things contained and organized – diaper bags are perfect!
Well, that should cover everything you need to know about bullet journal supplies! Remember, this is just a guide so you know all the supplies that are available and so that you don't feel lost when conversing with other members of the Bujo community. Pick the ones you think will work for you, test them out and slowly build your collection – that's how you build a set that's perfectly curated for you!