I always struggled in past when it comes to doodle . I always thought my art is not good enough and it took me time to realize that doodling is a fun activity and you don't have to be an artist . Doodling in my bullet Journal is the safest place I find to express my emotions .
Here are easiest tree doodles for your bullet journals and planners . You can add your variations to it and make it more creative and innovative . Play around different color combinations using color wheel as reference .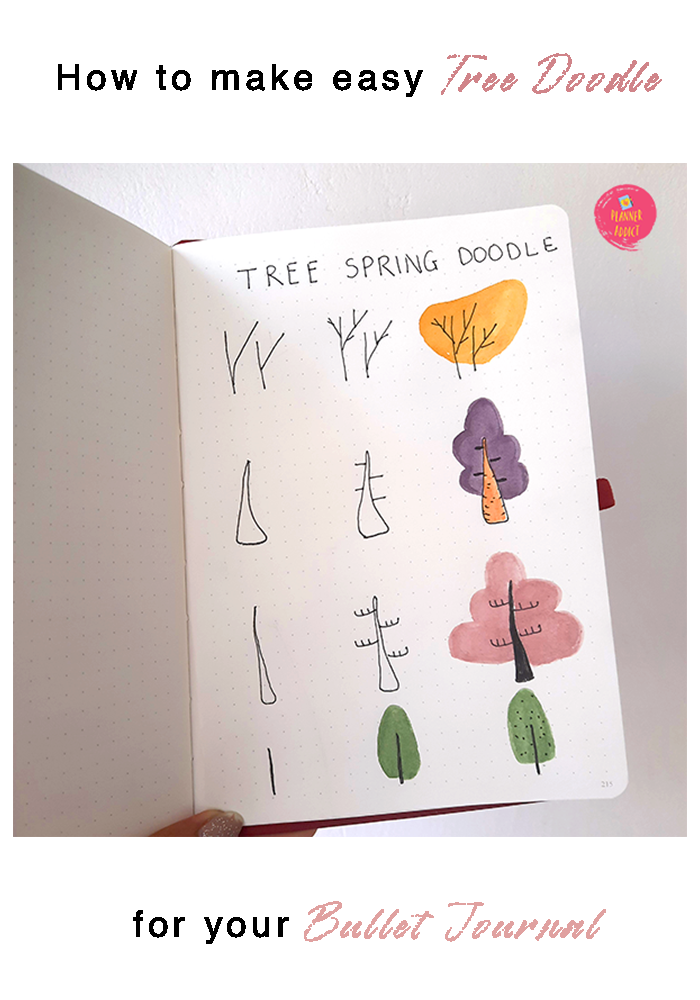 Supplies you need
You can always start with Bujo supplies you already have but here are the basic things you might need :
Bullet Journal or blank paper
Favorite pencil and eraser
Waterproof Black Pen
Watercolor
Any other color medium of your choice
Step 1 : Rough Pencil sketch
Start lightly drawing with pencil . I usually start drawing with straight vertical line and then keep on adding branches to it . Try to add branches in such a manner that it looks balanced .
Start outlining the branches as you want. If you want to make your tree look slender , add more like a conical shape . If you want a big bloat then add a more distorted circular shape .
Tip: Don't press your pencil too hard as it would leave marks later while you erase them .
Always choose your favorite pencil to start drawing with.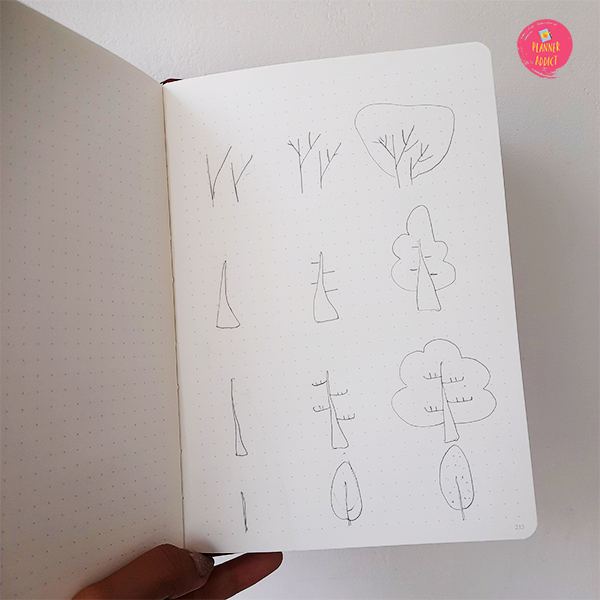 Step 2 : Pen Outline
After you are happy with your pencil drawings start outlining with waterproof black pen . You can use gel pen or ball pen as you like it , here I have used Black Gel Pen . To achieve more smooth line while drawing with black pen try not to shake your hands and avoiding lifting you pen too often .
You can also eliminate this step and draw directly with paint . You are free to experiment with different mediums like sketch pens , brush pens or any other colored pen . Let your creative juices flowing at this point .
Tip: Try to use waterproof black pen
If using any other medium , keep in mind to check whether they are waterproof or not .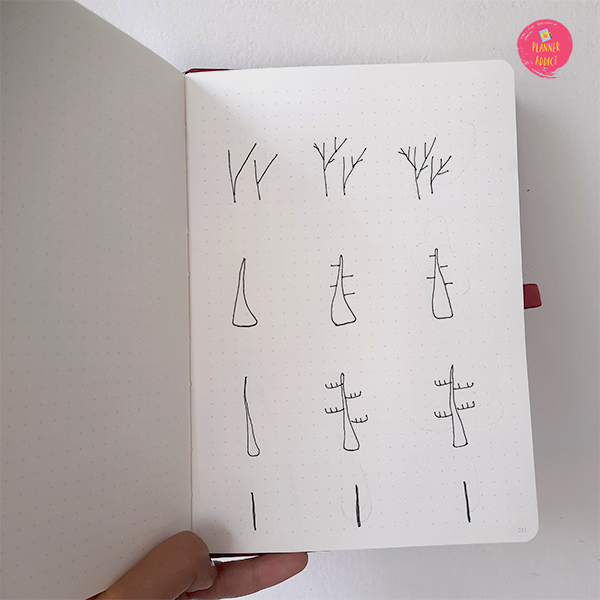 Step 3 : Add colors
Pick your favorite colors and start painting . This is the ultimate step of happiness . You might not like your drawings at step 2 but not you can add colors and bring them to life .
Try to choose more bright colors or you can choose colors according to your theme .
If you are not sure which color to choose or need more depth knowledge on color wheel check out this blog : The Ultimate Guide To Creating A Colorful Pleasing Planner Layout !- Color Palette Tutorial for Planner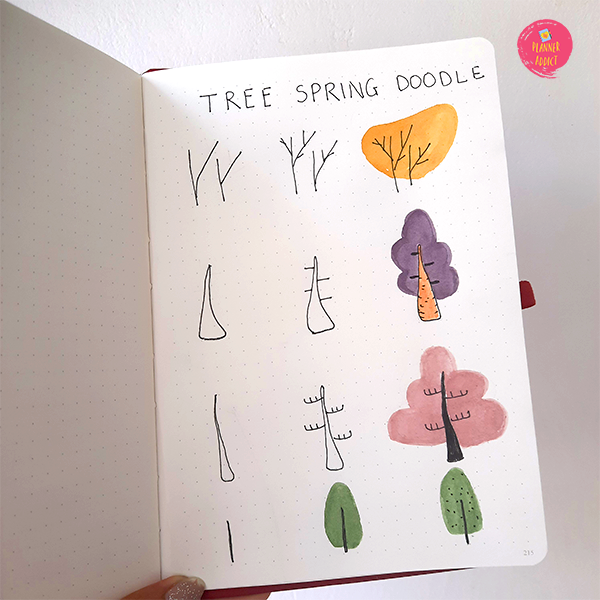 I hope this tutorial was helpful to boost your creative side .
Doodle mundane things in your journal and you will eventually end up to many new designs for your Bullet Journal . Don't forget to tag me on Instagram . I would love to see your beautiful Creations .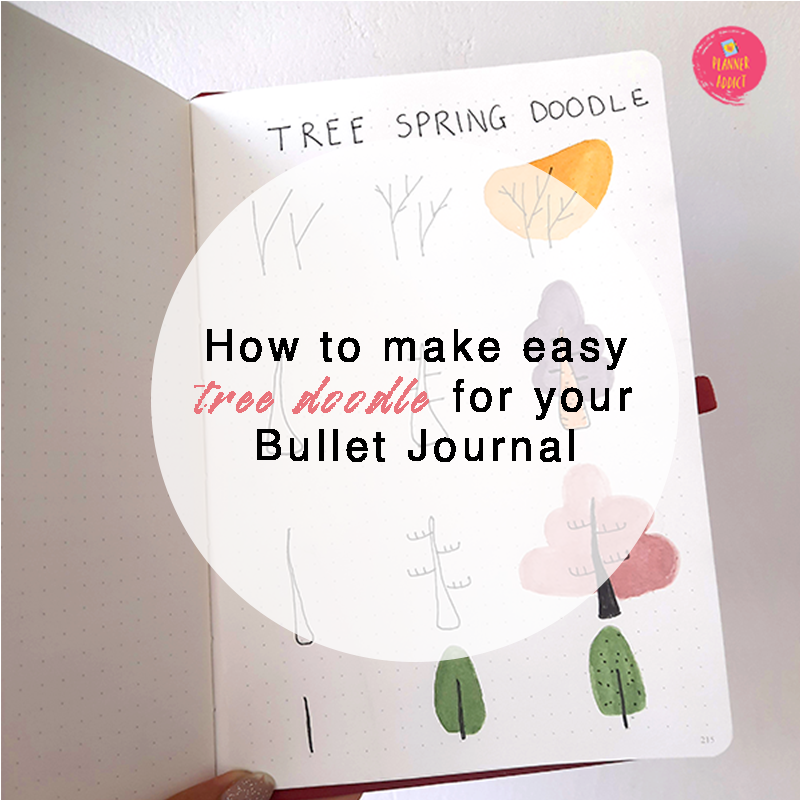 Frequently Asked Question
Which paper is best for watercolors ?
Watercolor is a water based medium and tricky to handle . High GSM paper like 200 and more are best choice for watercolors. You can still use very light washes of watercolors on low GSM paper .
What other color mediums can be used instead of watercolor ?
There are plenty of options available out in the market.
1. Water based mediums like poster colors , acrylic , gouache are some options to try .
2. For dry mediums one can try crayons , pastels, charcoal , graphite etc .
3. There are some alcoholic based mediums like markers , brush pens , sketch pens ,alcoholic inks etc
4. One can also try oil paints
How to improve quality of lines ?
Shaky lines in your art shows your lack of confidence while drawing . To achieve perfect and smooth lines try to practice line drawing in your free time.
Try drawing straight lines , curvy lines , circles , zigzag lines . Doing it for 15 mins daily can improve your line quality .