Whether you're looking to preserve memories or just want to create something unique and beautiful, a junk journal is the perfect outlet for your creativity. The beauty of a junk journal is that it can be as simple or elaborate as you want it to be. It's the perfect way to document your life in a fun, creative way while also preserving memories and moments that might otherwise be forgotten. Whether you're an experienced crafter or just starting out, there's no better time to start your own junk journal than now! Whether used for scrapbooking or as a daily diary, junk journals offer a fun and creative way to document one's life experiences.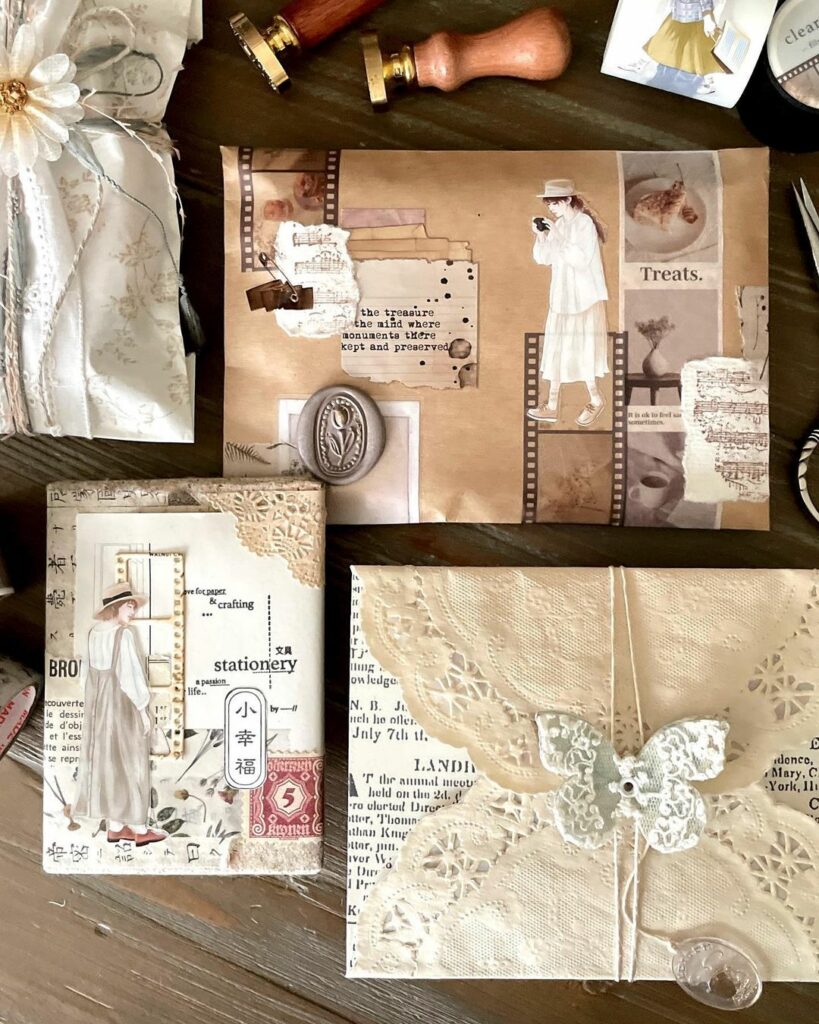 What Is A Junk Journal?
A junk journal is a type of handmade journal that incorporates various materials such as old book pages, vintage ephemera, and other found objects. The idea behind a junk journal is to create a unique and eclectic book that reflects the creator's personality and interests. They are often used for memory keeping, scrapbooking, or simply as a way to unleash one's creativity. Unlike traditional scrapbooks, which typically follow a more structured format and theme, junk journals are often more eclectic and whimsical in nature. They allow for greater artistic expression and experimentation, with each page offering a unique opportunity for creative exploration.
While it may seem like a haphazard approach, junk journals offer a number of benefits for those looking to flex their creative muscles. For one, they encourage a sense of freedom and experimentation by breaking away from traditional journaling formats. They allow creators to mix and match different materials, textures, and colors to create something truly one-of-a-kind. They also provide an opportunity to repurpose items that might have otherwise been discarded, which can be deeply satisfying for those who value sustainability. Overall, junk journaling can be a fun and fulfilling way to explore your creativity and express yourself in new ways.
How To Make Your First Junk Journal?
Junk journals are essentially handmade books that are filled with a variety of materials, including scraps of paper, photographs, stickers, and other found objects. You can use it to write down your thoughts and feelings, sketch out ideas, or even create collages. By using different textures and colors, you can create a truly one-of-a-kind piece of art. Read on to know more about how to start making your first junk journal.
1. Gather The Materials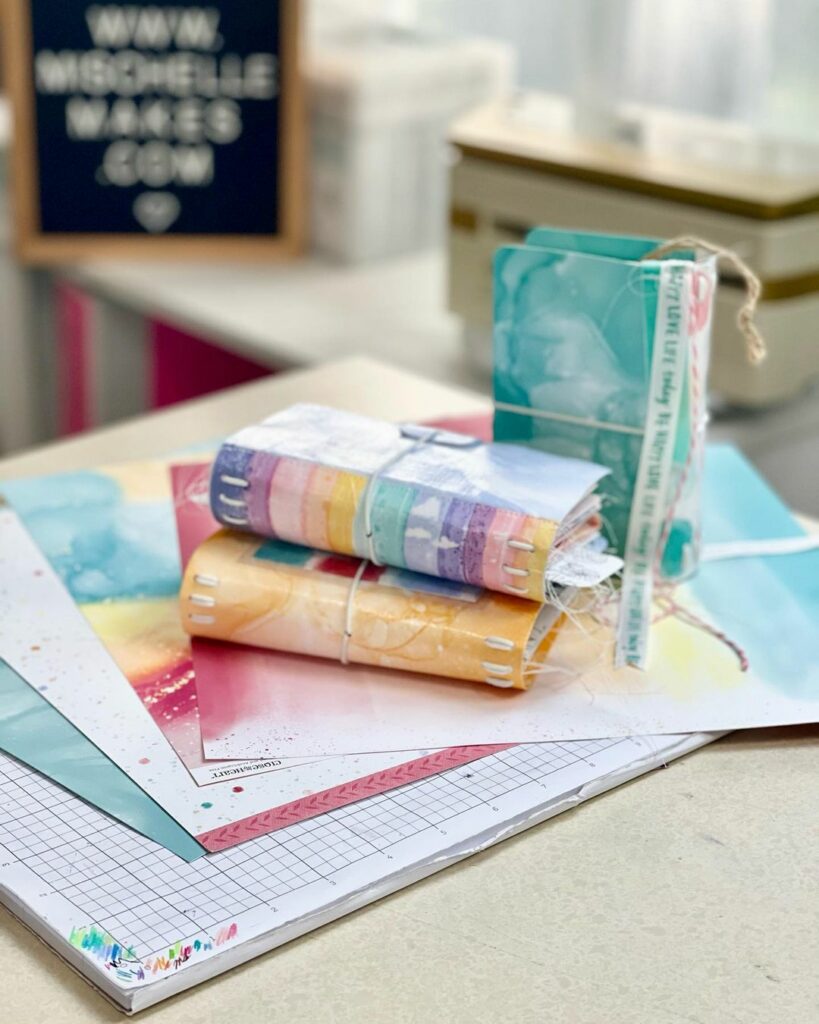 So you have finally decided to create your first junk journal and you are thinking to use kinds of stuff that encompass some of your memories? Fret not, it will turn out as beautiful as it sounds. All you need to do is gather the material together so that you can have a better start and do not have to rush around the house to find the stuff. Whether you are planning to bring in some old books of yours or the art book you had when you were 5, you can use anything at all here. Here is all you need to have in advance-
Old books/ Posters/ cereal boxes/ wrapping boxes/ Tickets/ Art books etc.
Scissors/ paper cutter
Glue and washi tape
Book Binder/ Staplers
2. Select The Theme and Style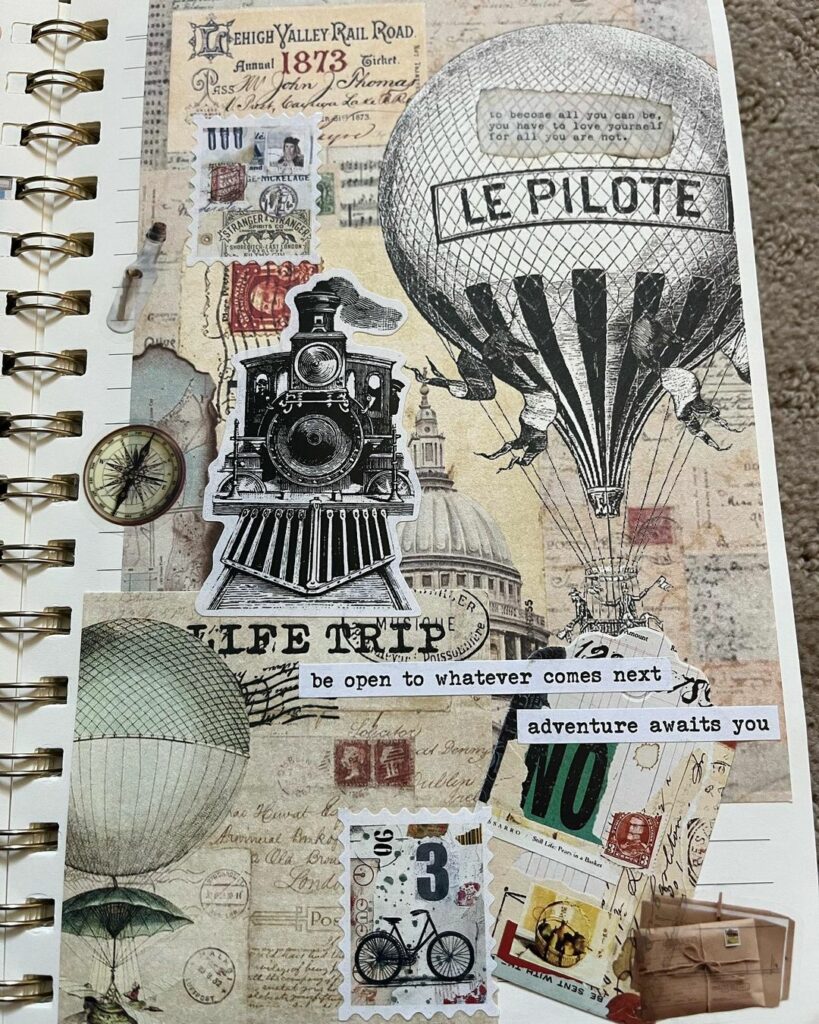 Junk journaling is all about creativity and self-expression, so the style and theme options are endless. Some popular styles include vintage, shabby chic, and boho, while themes can range from travel to nature to personal growth. Vintage junk journaling often incorporates old book pages, lace, and ephemera from the past, while shabby chic leans towards soft pastels, floral patterns, and distressed edges. Boho junk journaling takes inspiration from nature and incorporates elements like feathers and dreamcatchers.
When it comes to themes, travel junk journaling might include maps or ticket stubs, while nature-themed journals could feature pressed flowers or leaf prints. Ultimately, the style and theme you choose should reflect your unique personality and interests – there are no rules when it comes to this creative and fun form of journaling!
3. Create The Junk Journal Cover
The cover of a junk journal can be a fun and creative project, especially when you have a specific theme or style in mind. Gather materials that fit the theme, such as vintage papers, ephemera, and embellishments. You can then layer these materials onto the cover using different techniques like decoupage or collage. If you want to go for a more rustic look, try incorporating natural elements like twine or dried flowers. For a more modern look, consider using bold colors and geometric shapes.
The key is to experiment and have fun with the process until you achieve the desired effect. With a bit of creativity and some carefully chosen materials, you can create a unique and eye-catching cover for your journal that perfectly reflects your personal style.
4. Create Junk Journal Signatures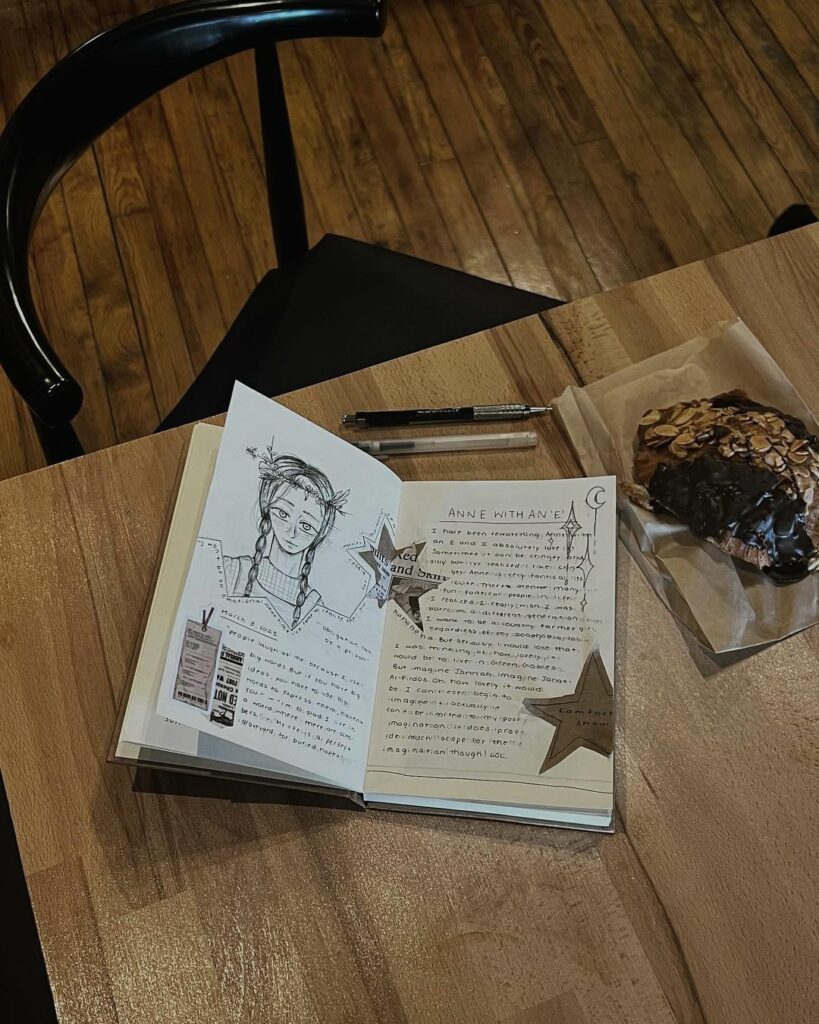 Junk Journal Signatures are the pages that will be incorporated between the Junk Journal cover or in easier terms- the paper you will be maintaining a journal or doing artwork. Creating a junk journal signature is an excellent way to add a personal touch to your journal while also showcasing your creativity. If you want to take it easy and smoothly at first, we suggest you take the same theme and style as the cover. This will help you choose the right materials, colors, and embellishments for your signature pages.
With some practice and patience, you'll soon be able to create beautiful journal signatures that add personality and charm to your journal pages.
5. Bind The Cover and the Signature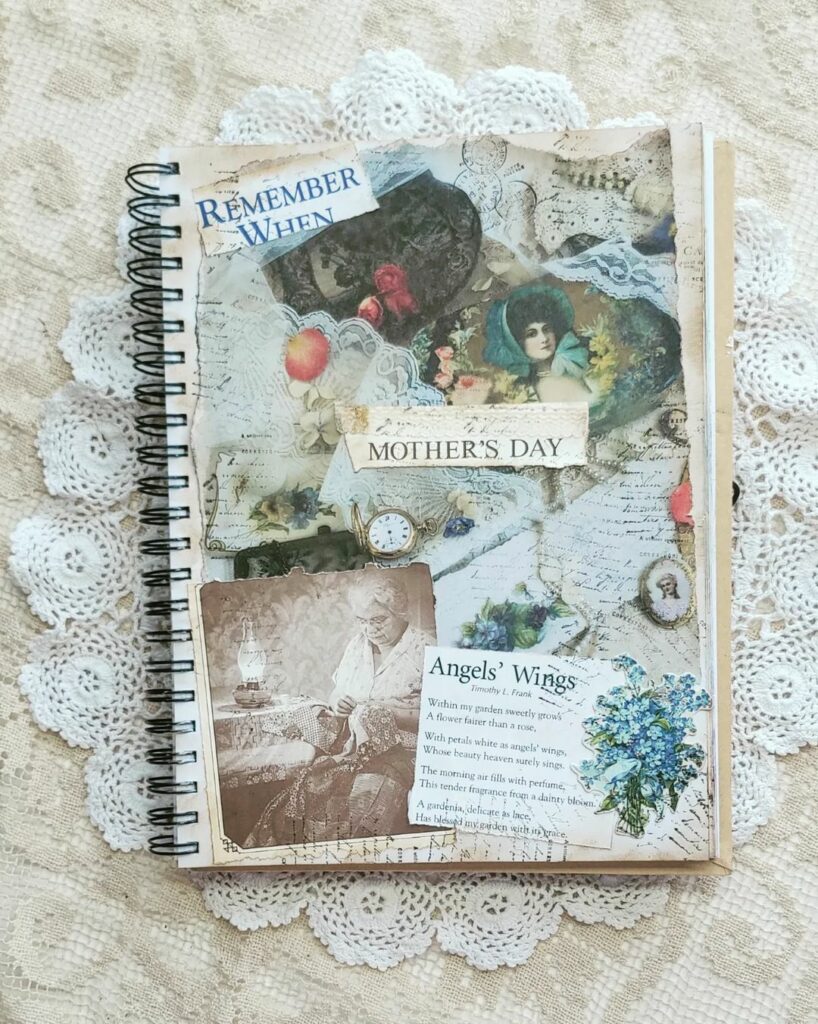 Creating a beautiful junk journal requires binding the cover and signature together in a way that compliments the overall aesthetic of the journal. There are many different methods for binding, including saddle stitching, Coptic binding, and perfect binding. Each method has its own unique advantages and can create a different look and feel for the finished journal. For example, saddle stitching is a simple and effective method that creates a rustic look, while Coptic binding is more intricate and adds an elegant touch to the journal.
Whichever method you choose, it's important to ensure that the binding is secure enough to withstand regular use and handling. With some creativity and attention to detail, you can create a beautiful journal that will be treasured for years to come.
6. Decorate The Junk Journal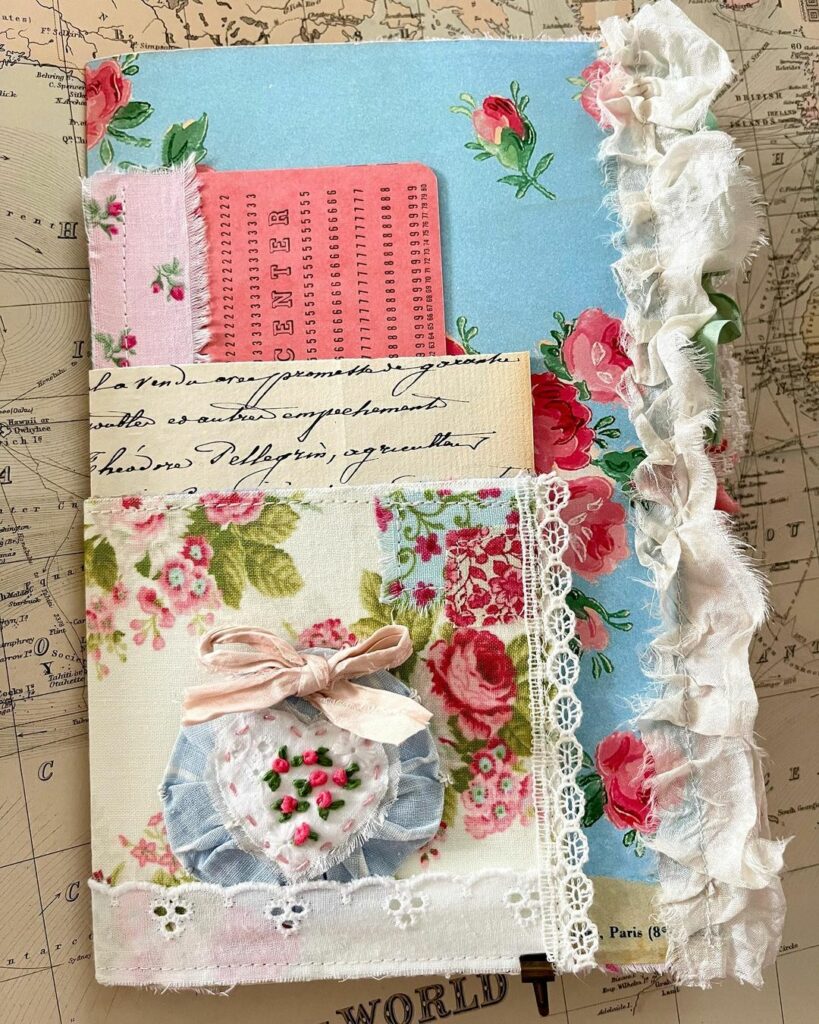 Decorating a junk journal is a great way to get creative and add a personal touch to your writing. The possibilities are endless, as you can use a variety of materials such as stickers, washi tape, magazine clippings, and even fabric scraps. It would be great if you decorate your junk journal in the same theme and style that you have decided for the Cover and signature.
One popular trend in junk journal decoration is the use of vintage ephemera, like old postcards and tickets, to add a nostalgic feel to your pages. Another option is to incorporate natural elements like pressed flowers or leaves for a more organic look. You can also experiment with different fonts and handwriting styles to give your journal a unique flair. Ultimately, decorating a journal is all about having fun and expressing yourself creatively – so let your imagination run wild!
7. Junk Journal Is Ready To Go
After you have bonded the junk journal together and have decorated it according to your preference, your junk journal is all set for you to use. The use of a junk journal is entirely up to the creator. Some people use them as traditional diaries or travel journals, while others may use them to document specific themes or events such as weddings or a baby's first year. They can also be used as a form of art therapy, providing a creative outlet for stress relief and self-expression.
The purpose of a junk journal is to inspire creativity and self-expression without the pressure of creating a perfect or polished final product. Instead, the focus is on the process of creating and using materials in new and interesting ways. They can be used for various purposes, including as a memory keeper, diary, planner, or art journal. They provide a space for individuals to document their thoughts, feelings, ideas, and experiences while also incorporating their own personal style and aesthetic. Whether you're an experienced artist or just starting out junk journaling can be a fun and fulfilling way to explore your creativity.
We hope this article will ease the process of creating your first junk journal out of scraps and memories. If you liked the article and would like to read more then head on to our page- http://theplanneraddict.com