Are you intimidated by the world of Bujo? In this blog we look at a very simple way to Bullet Journal.
Step 1) Pick a Bullet Journal
Before you even start a system you need a Bullet Journal. I like the Leuchtturm1917 Bullet Journal. It is minimalist (allowing for maximalism), compact and attractive. What more could you want from a Bullet Journal? Make sure to do some research and pick a Bullet Journal that suits you.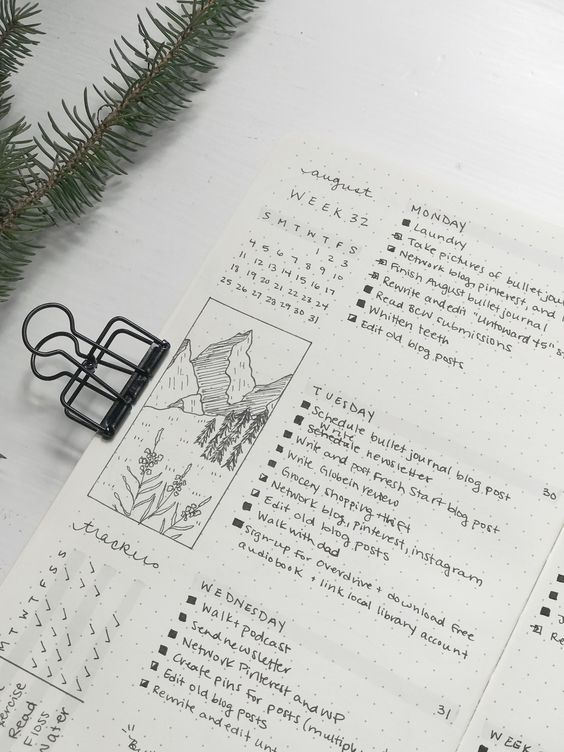 Step 2) Implementing a System
Read our blog about how to start a Bullet Journal here.
Right, let's get down to business. If you have been looking for a simple bullet journal system that you can maintain, this one is for you.
If you have looked at our blog on How to Start a Bullet Journal you should have all of the pages created. Now that you have that, a system is important!
Review your Bullet Journal
Review your bullet journal every month, weekly, morning and night. Throughout the day you will be checking your bullet journal regularly and adding things to it. So reviewing it is important to weed out anything that might be unnecessary.
At the beginning of each of each month, I spend a maximum twenty minutes checking over my bullet journal and adding in everything I know is happening for that month. After that I check in weekly, then in the morning I look over my bullet journal and at the end of the day do a full review of the day. Although it sounds like a lot, it really is not. A few moments a day can help keep your system in place.
Migrating Tasks
A key part of keeping a Bullet Journal system is migrating tasks. Migrating tasks is when you move tasks that you have not completed to the next day or next month. A key part of migrating is knowing whether to move the task or to get rid of the task. I often write something I think I need to do but by the end of the day it is redundant. If I moved this to the next day, it would be pointless so make sure to monitor if what you are migrating is necessary.
If it is necessary make sure to move the task with a small arrow and write it in for the next day. Making sure this is part of your system will mean you do not miss any tasks which can otherwise been overseen.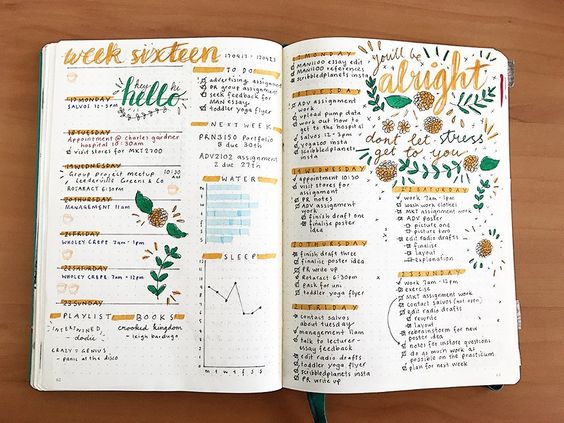 Keep your tasks down.
We all like to overload ourselves with tasks, let's face it! However that can leave you with a lot of migrated tasks. Try and only put in 5-6 main tasks per day and if you must a few smaller ones. Overloading yourself will only lead to you feeling unsuccessful and could lead to your system falling apart.
Make a key and use it.
A bullet journal needs a key at the beginning of your journal. This allows you to refer back to it if you are not sure what symbol to use. Below is a really simple key: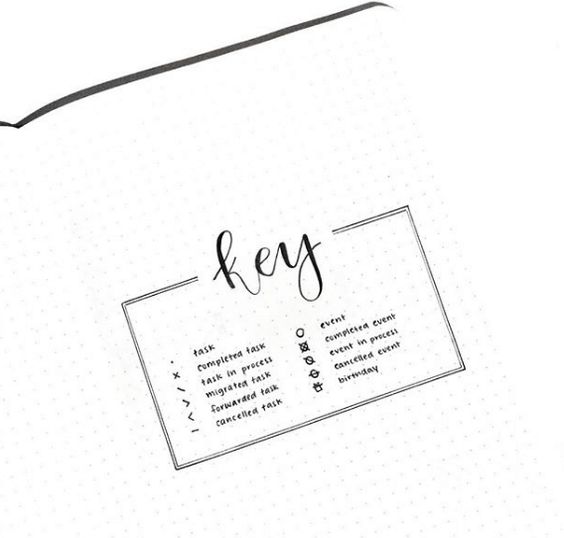 The symbols in the key will become the most important part of your system. They will allow you to immediately recognise if something is a task or event. They will also show you if you have completed a task or migrated it. You can use as many or as little of these symbols as you like. Personally I only use task, completed task, migrated tasks and event. Play around with the symbols, see which ones fit into your system and the other ones you don't need to worry about.
Make it personal.
When it comes to journaling it is all personal preference. Pick a system that works for you and make sure you use it.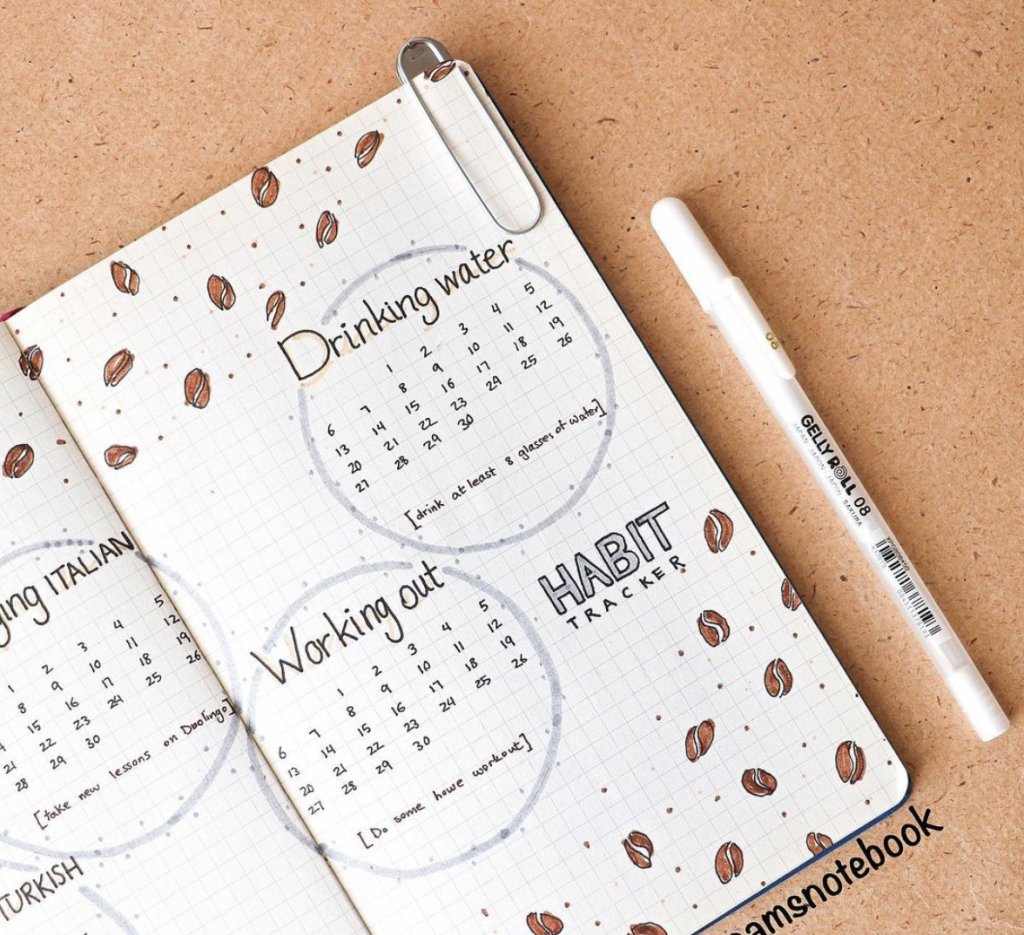 Only add pages that you will use.
My final point is about the pages you choose to add into your bullet journal. Bullet Journals have all sorts of pages, here are some that are necessary:
Here are some optional extras:
Brain Dump
Habit Tracker
Future Tracker
Monthly Log
Collection Pages
Apart from the necessary pages the rest is optional. Pick which ones fit in with your system (it could be all of them!) and use only those.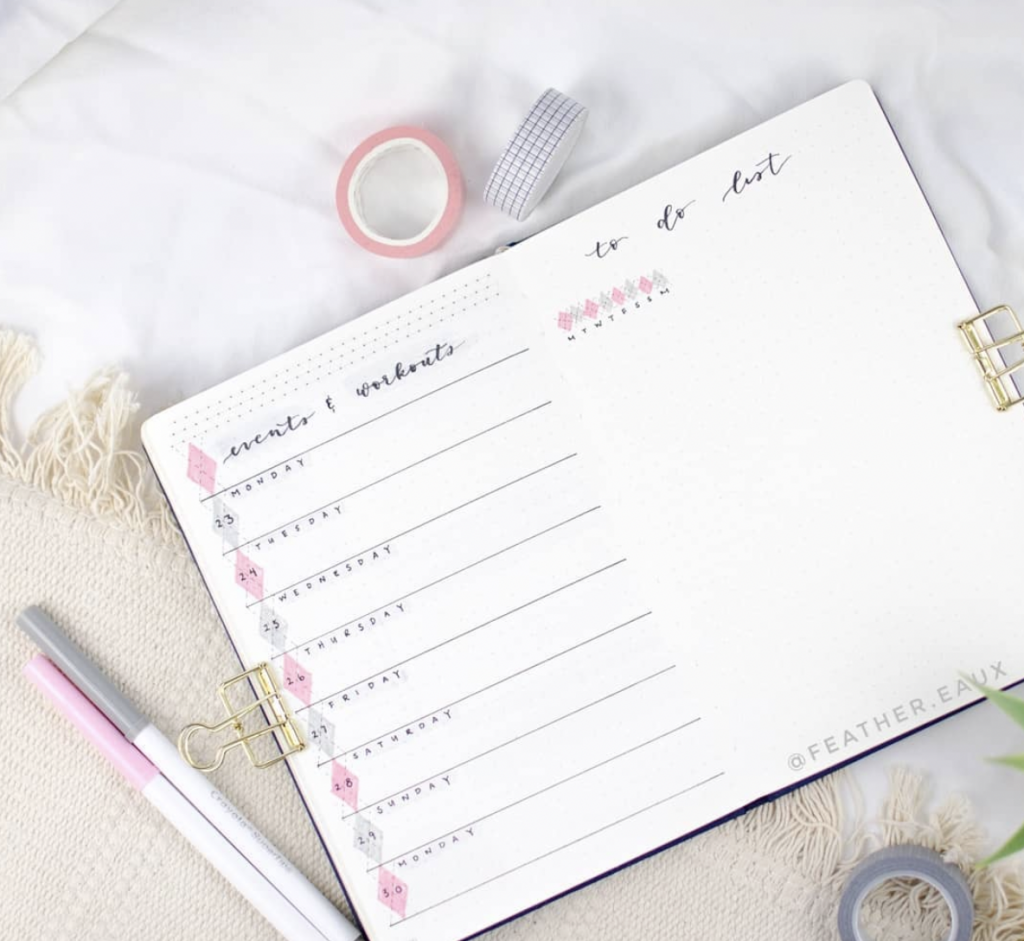 With a simple system in place you can play around with your bullet journal making each month different and unique. A system will help you boss 2021 and be the most organised version of yourself.
Whether you use a simple or more complicated system make sure to send us pictures of your Bullet Journal, we love to see them.
Was this helpful? Please let us know in the comments.
Thank you for reading – The Planner Addict