From a Brain Dump to a Period Tracker this blog will show you how to create five easy to manage systems in your Bullet Journal.
Bullet Journal's are great for many reasons and one reason is that you can keep everything in one place. Here are five bullet journal systems which will help you to get organised –
Brain Dump
Let's start with the easiest system to set up, a brain dump is a page for you to write anything you would like on. From random thoughts to things you would like to do in the future, brain dumps are a brilliant way to tune into your brain.
To set up a brain dump all you need are two blank pages. Take a look at some ideas below.
Take a look at our blog with Winter Brain Dump Ideas.
'To-Watch' List
Much like a Netflix list, why not create a to-watch list? You can fill it with movies, TV shows and documentaries you would like to watch in the future. As you watch them, you can cross them off your list and rate them. This can be a really fun system to put in place and is like a form of self care.
You could make a layout similar to the one below in your Bullet Journal. If you wanted you could make a separate one for films and TV shows.
Habit Tracker
Positive habits are vital if we want to be productive and successful. A habit tracker is a great way of monitoring your progress. It also means that you can track at what times of the month or year your habits may slip. Habit trackers are really fun to make. This system takes time so make sure to set aside a few hours to get creative. Take a look at some examples –
Period Tracker
Create a period tracker in your bullet journal, I like the one below which has all of the months on one page.
Below is a monthly period tracker. Pick a style that suits you and then decorate it to match your Bullet Journal.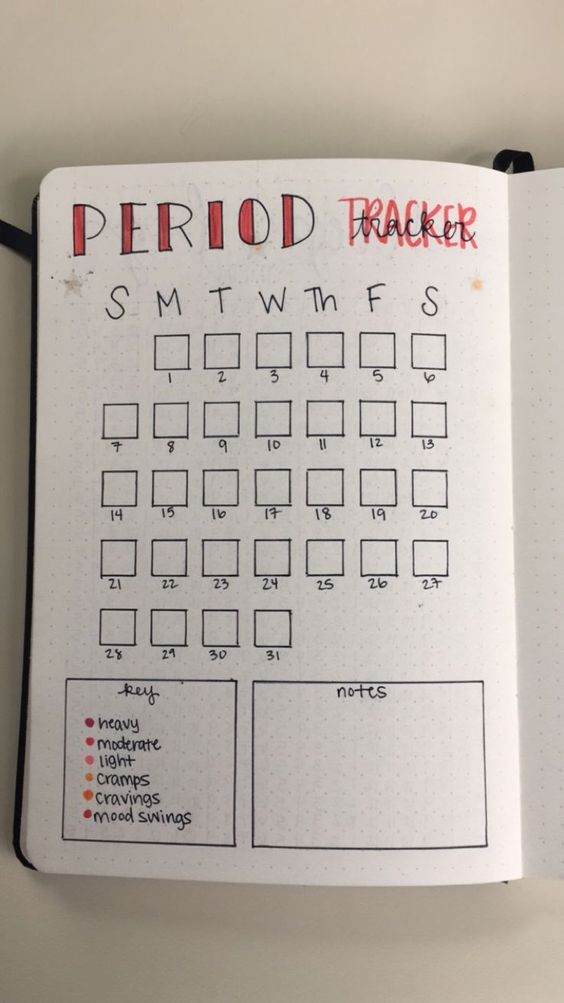 Meal Planning in your Bullet Journal
Finally why not use your Bullet Journal to plan your meals? Personally I hate thinking about what to make each day. This system can help you to plan in advance if you are busy, create an easy to follow shopping list and you can be creative with your planning. You could add a breakfast, lunch and dinner meal plan to your daily log or you could create a separate page each month for a monthly meal plan. Take a look below at some meal plan inspiration –