I came across this buzz -"Planner Peace" amongst Facebook groups I am in and everybody was hung up on the questions like what is the perfect size ? Which planning system is better ? Do I need to change my planner every 6 months? and the most intruding question – "Will this give me planner peace ? "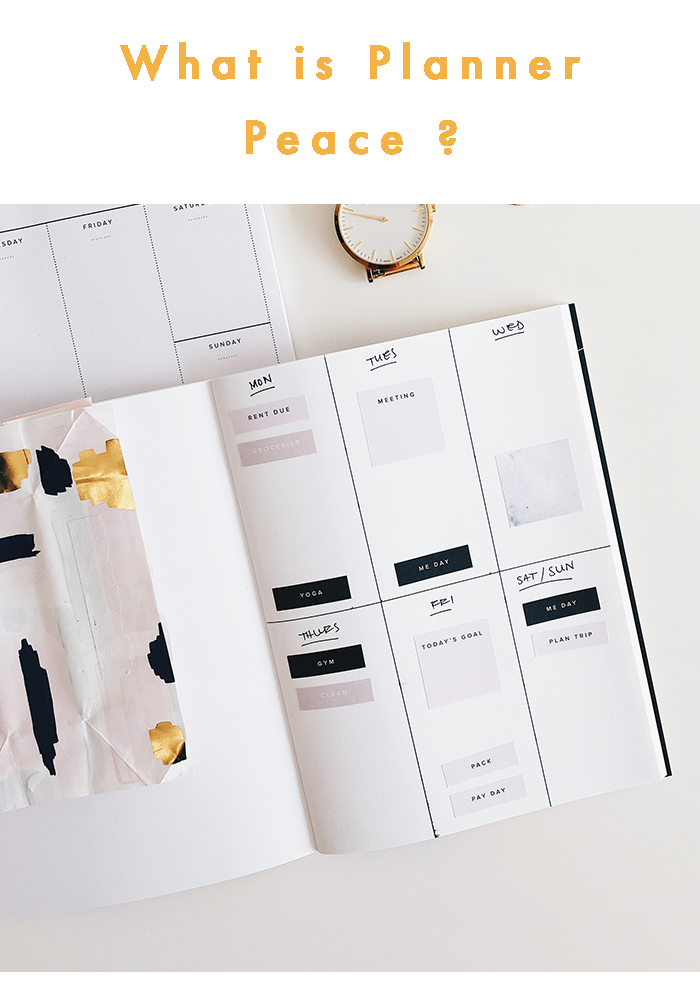 What is Planner Peace ?
You must be wondering what the heck is PLANNER PEACE !
Well,
Planner peace by its name means a planning system or a planner that put your life and mind at peace . A planner / system that works for you and puts you in peace while keeping you organized . Choosing such a planner have so many factors to consider like which brand , size , what planning system etc.
How to achieve it?
I have been experimenting with a lot of stationery and planners for past many years and honestly achieving planner peace seems a far fetched thought for me . My life is constantly changing and I as a person change every year . Everything about me is changing except that I use planners to plan my days and life . It took me long time to finally come up with a method that collectively solve all my problems.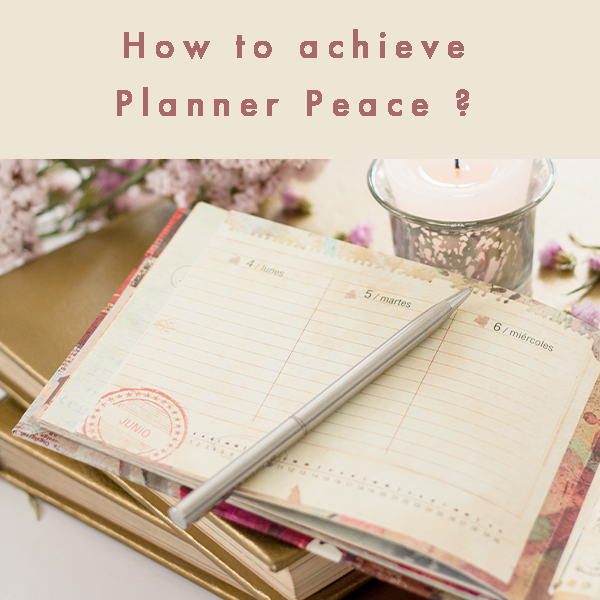 Determine your needs by your Lifestyle
Is your lifestyle crowded ? Are you someone always running out of time ? Or Are you a housewife you needs to organize her chores and side hustle ?
Your lifestyle is unique to you and only you know what you expect from your life . What are your goals ? What do you want to achieve ?
Check out this blog :The Benefits of Keeping a Planner.
Here are the things I wanted to achieve, and therefore needed my planner to help me with:

Build my business by producing reliable and high quality work for my customers. Key to this is to be where I am supposed to be and to control time allocated to different projects
Manage different Blog channels
Manage Kids and make time to teach them , helping them with their homework , test and creative works.
Develop meditation and daily Journaling to support health and wellbeing
Reduce reliance on Phone (I was spending too much time looking at it for reminders).
Determine what you need to keep record of
Although we might have different needs and wants but we all have same set of "24hrs".
Check out this blog : Make Better Use of Your Time: Benefits of Planning Your Day
Allocating time for everything is name of the Game .Based on your lifestyle and needs you make a list of things that you need to plan and allocate time for.
What I need to record:
Time Blocking – I need to find the perfect balance for my energy and work flow . Which task require most energy and when are to be schedules compared to tasks which require less energy .
Check out this blog : The Wonders of Time Blocking in your Bullet Journal.
Appointments – I need to know where I am supposed to be and at what time
Blogging – I need to research and keep record of all the brimming ideas for future reference.
Health – I need to record health data .
Good Habits – I need to record how consistent I am being with exercise, meditation and other health habits. Record for as long as the habit is forming, and then stop. Replace with next habit.
To-Do lists – Write time dependent to-do in planner (e.g when do I have to order grocery ) Write repeating to-dos on a sticky flag and move them (eg. cleaning every alternate days).
Making time for family – Something that I always put on my priority is making time for my family , kids and all my loved ones . What is the point of working when you can't make time for all the people you love .
Making time for myself – Sometimes I over burden myself and overwork which leaves me exhausted and lethargic . I have been fighting anxiety and stress for a long time after i started my business therefore making time for self care is something that i need to take record of .
Time to choose Planner
It's time to choose planner of your choice that fits both of these two factors – : what you expect to achieve ? and what you need to keep record of?
Check out this blog: The Ultimate Guide To Choosing a Planner That's Right For You: Which One Should I Buy?
It necessarily don't have to be a prefect planner , we are half way through the process so don't spend alot on buying expensive planners . Just try to make a system that fits your needs . You can start with Bullet Journals that gives you alot of freedom to experiment . You can also choose to go with simple blank paper before investing in a proper journal .
It's totally OKAY to test out your method , you can take inspiration from the internet or famous bloggers . Remember not to follow their strategy just take inspiration for the layout of your spreads . You can take ideas on how to express all these information on the page .
I started out in my last year's Bullet Journal before buying a new one . I had already wasted alot of money buying planner that didn't fulfill my needs later. Therefore this time I don't want to take any chance
Time for review
After determining these two factors which are the main pillars , its time to review .
Test out this new system for 2 months atleast . It's said that a habit can be built in 14-15 days and hence you can use your planner to build habit and also make a record if you are able to keep up and how much that system is helping you .
You simply have to put this plan to work for 2 months and after 2 months ask questions like – Did I keep up with my Commitments ? Did I completed all my work on my to-do list ? Was I able to make time for myself too ? How am I feeling at the end of every passing day ?
Following are the questions I had asked myself :
Did I manage my time for business and projects appropriately?
Did I attend all my meetings and appointments?
Did I blog and post regularly?
Am I recording health data and can I make sense of it in order to draw conclusions about what is a positive impact on my health?
Can I see how I did at developing my good habits?
Did I complete all of my important To-Dos?
Did I feel in control and understand all of my commitments?
In my case the answer to all these questions were YES .,then my planning system was working. I was able to make time for myself and loved ones. I helped kids with their homework and completed all my commitments . I developed new habits and made time for new things to experiment . I learnt how to make an effective to -do list and completed all my tasks for the day .
Check out this Blog : 7 Tips for Planning your Day Effectively + Example
Here the Catch : Don't go for fancy planners with attractive colors , size, cost etc . Foremost You need to see what works or you and not what color or size is it . Although aesthetics are a crucial part but still its not that significant if you want to achieve planner peace .
Hope this blog helps you .Let us know your thoughts in the comments below or leave us a DM on Instagram .
Peace !